Power your smartphone or tablet with powerful apps for navigation, weather forecasting, fishing, diving, and safety.
Shorebound during COVID-19 quarantine, I realized that being confined to land didn't mean I couldn't satisfy my love of being on the water. So I spent some time researching and testing out some boating apps, which I used as soon as boating season fired up again.
I discovered thousands of apps that can be used to make boating safer and more enjoyable, including for navigation, weather forecasting, fishing and diving, convenience, and, of course, safety. Bonus: Most of these apps work equally well on land and at sea. The ones discussed here are some of my favorites that I use often. Many are free, though in-app purchases will generally give an ad-free version or unlock enhanced features.
Anchor! drag alarm
An easy-to-use GPS-based anchor alarm for your smartphone or tablet. Set the anchor alarm and select the swing radius. An alarm with the volume and tone of your choosing will sound if your boat leaves the selected radius. Gone are the days of sleeping next to a fixed plotter at the helm with an anchor alarm, or sleepless nights worrying whether a distant alarm will be heard if the anchor begins to drag.
Cost: $3.99
Pros: Works offline (though without some graphics). Has a feature that will send an email or text to a second device if the boat moves, permitting worry-free trips ashore, or use as an inexpensive "find my boat" security system.
Cons: iOS version only. Some features are not as intuitive they could be.
Apps For Fishing & Diving
Apps for fishermen and divers tend to be regional. For example, Florida Scuba Diving is a map-based guide to popular dive and snorkel sites in Florida. The app provides relevant info including GPS coordinates, dive difficulty, depth, accessibility, and a description of the site. The paid version ($3/month) provides a recommended route using various models, such as 3D or sonar. FL Saltwater Fishing Companion provides a detailed description of Florida fish as well as fish photos, habitat information, size, and bag limits. Cost: $3.99.
Navionics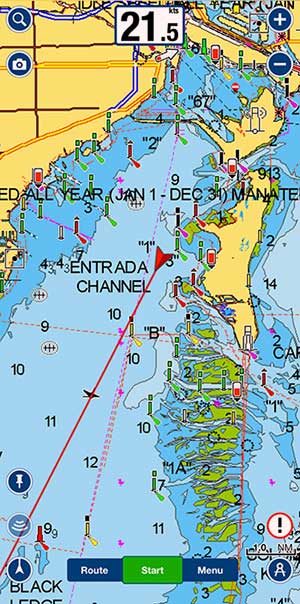 Navionics
This instinctive, easy-to-use, full-featured navigation app includes most of the same tools as a top-of-the-line chartplotter and more. It contains accurate, detailed charts and the ability to store and navigate to waypoints or follow routes. The charts are bright and updated daily. The search feature permits searches by location name or type of service. Once located, the app provides additional info about points of interest, service facilities, and a suggested straight-line route to that location. The paid version includes a "dock-to-dock autorouting" feature that provides a customizable turn-by-turn route akin to what you'd expect to find on a land-based navigation system. The weather tools are state-of-the-art. Touch a map point and receive weather info, barbs depicting three-day wind predictions, tide, current, and buoy data.
Cost: Prices vary based on chart location, but start at $14.99 for the U.S.
Pros: A small price to pay for a state-of-the-art navigation app. Charts and basic navigation features continue to work after expiration of annual subscription.
Cons: More advanced features require an annual subscription of $14.99 for U.S. waters.
BoatUS App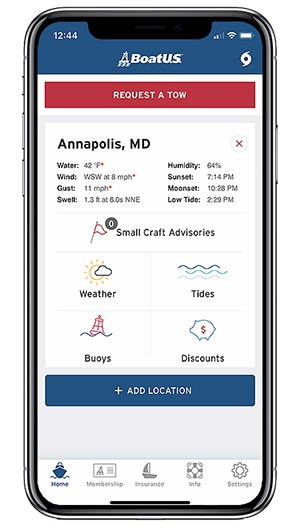 BoatUS app
First and foremost a safety app. Much like a life raft, you hope you don't need it but are glad to have it if the need arises. Tap the "Request a Tow" button, and your current location is displayed in a lat/lon format along with instructions for contacting the BoatUS Towing Dispatch Center. Another handy safety feature is the ability to send your current location along with a map link via text or email.
If you're a BoatUS member or have marine insurance through GEICO | BoatUS, your BoatUS member number, insurance coverage, and premium info will also be stored and updated automatically. The app also includes basic weather, tides, and off-water features such as access to BoatUS articles and exclusive member savings.
Download: BoatUS.com/App
Cost: Free
Pros: On-water help on demand
Cons: Most features require that your device is connected to the internet
Tip
The BoatUS App featuring TowBoatUS CONNECT is the fastest way to request a tow. Tap the red button, and your info will be sent to the closest TowBoatUS captain.
CBP ROAM
An official app of the U.S. Customs and Border Patrol. If you come and go from international waters, sign up for the program and input basic info on your boat, passengers, and crew such as name, date of birth and passport info. Upon arrival in the United States, simply activate the app to report your arrival online.
Cost: Free
Pros: A great time-saving tool for boaters entering the U.S.
Cons: Has the look and feel of a government-designed app.
Is It A Good Day For Boating?
General purpose weather apps such as WeatherBug and Weather Underground provide basic weather info and good satellite radar. However, there is a bevy of single- or limited-purpose weather apps that provide more specific data or predictions on weather and sea conditions. Some of my favorites are Tides Near Me, which permits searches for nearby or preselected favorite tide stations. NOAA Buoy and Tide Data provides tide projections as well as buoy data from both NOAA stations and nearby ships that report weather conditions, including wind speed and direction, water and air temperature, atmospheric pressure, and in some cases, visibility. Both apps permit searches for nearby stations, Neither has a function to permit searches on a map. BoatingWeather is a free app that provides a written version of the National Weather Service's marine location forecasts — the same forecasts available on your VHF's weather channels. Windfinder and SailFlow are convenient for wind and sea conditions.
Mazu
My go-to app when searching for a weather window for a long passage. Intended as an aid for purchasers of Mazu satellite systems, the weather features are free and work with any device connected to the internet with Wi-Fi, cellular, or satellite service. The free version provides seven-day wind and wave forecasts in an easy-to-visualize GRIB format. Choose the area that coincides with your planned route, select the number of days for your desired forecast, and designate whether wind or wave conditions are desired.
Cost: Weather functions are free.
Pros: Once data is downloaded to your phone or tablet, it remains there in the form of a "report" available for repeated offline viewing and planning until deleted.
Cons: Takes practice to master the app.
Windy
This specialized app features animated wind maps of current and projected wind and other surface conditions, ideal for offshore sailing and racing. The animated wind map shows storms, high- and low-pressure systems, barometric pressure, cloud cover and height, sea height, and air temperature at a selected location. It also includes real time data from weather buoys.
Cost: Free
Pros: The free version provides more data in an easy to use format than almost any other app.
Cons: Enhanced features require an annual $60 subscription
Vessel Finder
This fun-to-use AIS tracker allows you to get info including location, course, speed, track, and photos of any AIS-enabled vessel worldwide.
Cost: Free. Upgraded version with additional info for $9.99.
Pros: Fun and easy to use.
Cons: Info limited for some vessels on the high seas. More info available as a vessel reaches territorial waters
Grog's Animated Knots
A step-by-step animated guide to tying hundreds of boating, fishing, and other knots. The app also has rope terminology/application and a safety feature with tips on line handling, rope care, and load factor recommendations — a must for anyone interested in learning the ropes!
Cost: Free. Upgraded HD version is $4.99.
Pros: Super-cool with great step-by-step animation.
Cons: Addictive!