Whether you use your smartphone or tablet as your primary marine chartplotter or as a backup, here are five favorite navigation apps from the editors of BoatUS Magazine.
Navigating with your tablet or phone has never been easier. We list our favorite five mobile chartplotter apps for use on iOS or Android tablets or smartphones. All the handheld navigation apps listed are either free or low cost, but if you want additional features or detailed charts, many require in-app purchases. The interface for each of the apps is somewhat different, so try out a few for yourself and see which one suits you and your boating needs best.
Most mobile marine navigation apps use NOAA raster charts, effectively paper charts that have been scanned and uploaded into the app. Vector charts are electronic charts that offer seamless scrolling between different areas plus allow the user to zoom in for extra detail.
If you have a choice, a tablet is preferable to a smartphone simply because the visible chart area is that much larger.
This very popular handheld chartplotter app works on both iOS and Android devices. There's a small charge to download the app, but then you can download NOAA raster charts for free. iNavX works with vector charts, too, including Navionics, Waterway Guides, NV Charts, and more, but there's an extra charge for these.
For an additional cost, you can download and overlay Theyr and GRIB file weather data, a handy feature.
$ BoatUS Members receive a 10% discount on charts. Access the savings by logging into your account at BoatUS.com
Cost: $4.99 to download, plus the costs of charts and weather data (via in-app purchases)
Pros: Superb navigation app; works with both raster and vector charts; weather data overlays available; 10% discount on charts for BoatUS Members
Cons: Takes some getting used to; some may find it overly complicated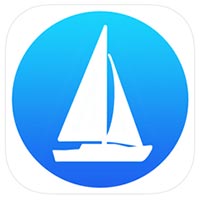 This is the cheapest app of those reviewed, and there aren't any signups, pop-up ads, or in-app purchases to spoil the experience. This isn't the most comprehensive navigation app, but a solid, easy-to-use, no-frills navigation tool. Easily measure distance between two points of interest, and import and export waypoints, routes, and tracks. This app uses NOAA raster charts, and like many of the other apps, charts are stored on the device itself, not online, so the app is fully functional even when there is no Wi-Fi or cell signal. One handy tool is the waypoint list that shows the ETA to each intermediate waypoint, not just to the final destination.
Cost: $7.99
Pros: Cheap and cheerful; shows ETA to intermediate waypoints
Cons: Cheap and cheerful; iOS only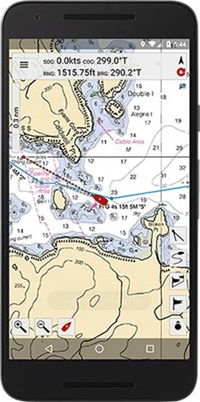 This Android-only app offers offline raster charts in addition to access to the Active Captain interactive guidebook. To add to functionality, the app also features road maps, but these are only available when the device is connected to cell or Wi-Fi service. As with other apps, you can create, edit, input, and view waypoints and use the measure tool to quickly measure between two points on the chart. Distances can be displayed in nautical or statute miles or kilometers to suit the operator's preference.
Cost: $9.99
Pros: Easy to use with no frills; road maps are useful for trailer boaters
Cons: Android only; road maps require access to network
Probably the most popular navigation app, Navionics utilizes vector charts and allows the user to connect to some chartplotters via Wi-Fi to transfer routes and waypoints. Charts, once downloaded, are stored on the device for offline use. Crosshairs allow for easy waypoint placement and access to local weather and tide information. Navionics offers a free two-week free trial after which the charts must be purchased to continue using the app.
In-app purchases open up additional features such as auto routing and sonar charts.
Cost: App is free; $14.99 to download U.S. charts
Pros: Intuitive and easy to use; connects to some chartplotters; weather/tide info; free trial
Cons: Requires an annual subscription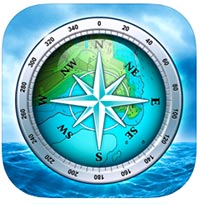 SeaNav comes from the same company that bought out BoatBeacon, the well-known AIS app. SeaNav uses NOAA vector charts which seamlessly download and link together as you scroll. Android users are out of luck — the app is only compatible with iOS devices. The map interface offers chart, satellite, and hybrid modes. Further functionality is offered for those with Simrad, B&G, or Lowrance chartplotters through Wi-Fi compatibility allowing sharing of data across the network. Considering the features offered, SeaNav appeals with great value for the money. Not sure if you want to pay yet? There's a free version that allows you to play with it, but you'll have to pay for specific charts.
Cost: $19.99
Pros: Good value with easy-to-use interface; chartplotter compatibility; app for Apple Watch; includes 12 months of free updates for installed U.S. charts; free trial
Cons: iOS version only