An inside look at what's new and how it works.
One of the best things about being a BoatUS editor is the direct access we have to the most creative and innovative minds shaping the business of recreational boating. Beginning this issue, we'd like to share that inside knowledge with you on a more regular basis. We'll reveal what we discover at boat shows, private product unveilings, boat tests, and through our personal experiences as we're given behind-the-scenes access.
I rendezvoused with our contributing editor Lenny Rudow at a secret slip outside the Fort Lauderdale International Boat Show last October to sea trial aboard a Bluewater 2850 center-console for a deliberately rough-and-tumble test drive. And then in November, Lenny took a trip down to Mercury's clandestine Lake X where he got to see — and experience — Mercury's new V10 Verado outboards. Here's what we learned.
— Rich Armstrong
Mercury Marine V10 Verado: Get On Your High Horse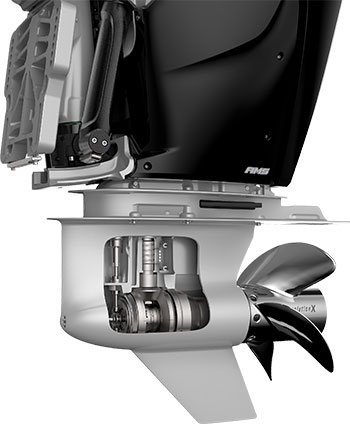 The V10 Verado's hydrodynamic gearcase reduces water resistance,
while its low gear ratio delivers low-speed torque.
Brand new outboards — as in, built from the ground-up, as opposed to goosing up an existing model — have been in short supply in recent years. So when Mercury Marine invited BoatUS Magazine to a first look and sea trial, we jumped at the offer. We expected plenty of power from a jaw-dropping 10-piston cylinder; what surprised us was how quiet these new Mercs run — even at wide open throttle.
First, let's get you up to speed. The 349 cubic-inch displacement (CID), naturally-aspirated Mercury 5.7L V10 Verado models debut as 350-hp and 400-hp outboards. The new quad-cam V10 platform fills the gap between Mercury's current V8 and V12 naturally-aspirated powerplants, which up until now has been covered by the supercharged V6 Verados.
Shifting from the boosted outboards to natural aspiration translates into more low-end grunt; but Mercury managed to maintain a 26-inch mounting space, and overall weight goes up by just 27 pounds. Another plus is these outboards are designed to run on 87-octane fuel, so you won't have to hunt down fuel docks that carry high-test.
Mercury rolled some very new tech into these outboards, including an (optional) 12/48-V alternator that can charge up Navico's new Fathom e-power system (see "The Best New Electronics of 2023"). That means you can get all the benefits of a generator via the integrated lithium-ion power system, utilizing the juice provided by your outboard alone. Another perk: The V10s deliver adaptive speed control, which maintains engine rpm regardless of conditions or load, so the boat doesn't bog down while climbing waves or rev up while coasting down them.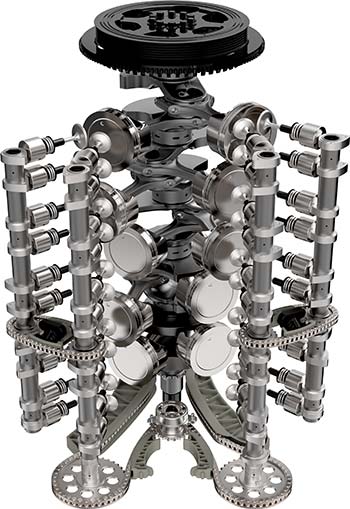 The 10 cylinders on this naturally aspirated outboard is an
industry first.
The lower unit is also new and different, designed by Mercury specifically for these engines. The gearcase is longer and larger than usual and matches up with the wide-bladed Revolution X propeller, also designed specifically for these motors. The net result is enhanced lift to help large, heavy boats get over the hump.
At the Florida test site, we took the wheel to run the 350- and 400-hp models on several varied boats. The first thing that was evident was how quiet they are, not only at idle but also at high speeds. We've all become accustomed to four-strokes that are nearly silent at low speeds. But at higher rpm ranges many start making a serious racket. That's not the case here; even running at wide-open throttle there's more noise from wind and water than from the engines. Mercury says they're "45% quieter than a leading competitor" at cruise, a claim we can't validate as the competitor's engine wasn't on scene. But we can verify that they're noticeably quieter than most other outboards at speed.
The versatility they provide is also impressive. We tested a 27-foot pontoon boat with a pair of 400s (top-end: 70 mph), a single 400 on a 28-foot hybrid bay boat (top-end: 53.8 mph), and a single 350 on a 26-foot bowrider (top-end: 48 mph). On all of these very different types of platforms, the V10 pushed up onto plane smoothly and quickly, and provided lots of midrange grunt with cruising speeds in the mid to upper 30s and 40s.
Both the 350 and the 400 are available in 20-, 25-, 30-, and 35-inch shaft lengths. The gear ratio is 2.08:1, and maximum rpm is 5800 to 6400. They're compatible with Joystick Piloting, VesselView, and SmartCraft, and have electro-hydraulic steering.
— Lenny Rudow
Seakeeper Ride: Manage Pitch, Roll, Yaw ... On The Fly!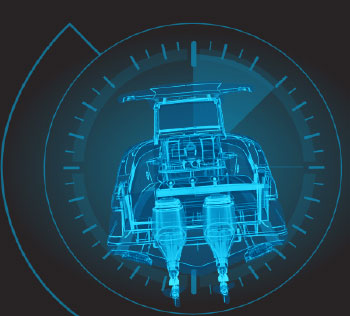 Seakeeper Ride's vertically deployed rotary blades make 100
adjustments per second to manage vessel motion.
Seakeeper rocked the boating world back in 2008 with the first gyroscopic stabilizing system for recreational boats. The technology produced miraculous results for stabilizing an immobile boat in lumpy seas. But revolutionary technology is expensive, so the system was initially only found on large yachts, especially offshore fishing boats. Seakeeper has since refined (and shrunk) the technology to work on boats as small as 23 feet, but the price tag still starts at five figures.
Enter Seakeeper Ride, the American manufacturer's next game-changing boating system. The Ride system has nothing to do with gyros and only works when the boat is moving, but the technology is truly amazing. Plus, it's far friendlier to the boating budget. The system consists of two controllers mounted to the boat's transom below the waterline. At first glance, they look like fancy trim tabs, but they're so much more. The proprietary inertial sensing hardware and software takes 1,000 measurements per second to understand the boat's behavior in all three axes. It then commands deployment of the custom-designed rotary blades that vertically deploy from the controller, making 100 adjustments per second, creating lift that manages vessel motion instantaneously.
Seakeeper calls this its Vessel Attitude Control System (VACS), which incorporates aviation technology to control pitch, roll, and yaw while underway. It does this by creating lift to stabilize a boat in motion, kicking in distinctively at about 20 mph. Seakeeper claims "up to 70%" reduction in pitch and roll. Lenny and I weren't equipped to take measurements as we bounced our way to the Atlantic, but there was no missing the dramatic change in stability once the system was engaged.
Looking for bouncy seas, I took the wheel and tried some serpentine maneuvering as we all held on tight. Our Seakeeper captain then engaged the system with the push of a button on the console and our rocking and rolling was instantly reduced by half, and probably more, turning what might be a challenging 30-plus mph run into one that felt smoother and more in control. As soon as I disengaged the system, the bouncing became more pronounced. I thought about future owners of 20- to 35-foot boats who will come to see this as an essential boating system, a new product easy to fall in love with.
For now, Seakeeper is installing them at the factory for Chris-Craft, Scout, and Sportsman brands, but we suspect Seakeeper Ride will be available on many more boats in the years ahead. At launch, three products with varying blade sizes will be available: Seakeeper Ride 450 for boats 19- to 26 feet (MSRP: $4,500); Ride 525 for boats 27- to 30 feet ($7,500); and 600 for boats 31- to 35 feet ($10,500). Retail sales for DIY installations are in the works.
Back at the dock, while we discussed the instantly smoothed-out ride for cruising, Lenny, our fishing editor, gave an angler's perspective: "What gets me excited is that it also reduces wear on the body. It takes less physical effort to hold on while cruising through the chop, so you'll be fresher when you get where you're going. Then you can stay out longer before tiring, fish all day, and you won't be so wiped out for run home, when it's time to clean the fish and scrub the boat."
— Rich Armstrong