While we can't yet automate all onboard logging, the technology we do have can vastly improve our log-keeping.
While maintaining a log remains the best possible way to track your boat's mechanical health, ye olde paper and pen have been eclipsed by modern logging techniques, especially among more youthful subsets of boaters. And we're not talking about spreadsheets, which at this point are as archaic as two-stroke outboards. These days, much logging of mechanical issues can take place right on your phone.
There are countless apps that let you organize most maintenance and performance information, ranging from the aptly named Logbook App to Boating Suite. And unlike those frustrating old spreadsheets, apps make it easy to access automatically tabulated details like the amount of fuel burned through the course of an entire season, total costs of repairs, or total miles traveled. In many cases, they can also be set up so that much of the information they collate is gathered automatically via Bluetooth or Wi-Fi. Even so, today's generic logging apps are already beginning to look like yesterday's news.
The latest and greatest in logging of many types of information can take place without your input — and possibly even without your knowledge. As more and more systems found on boats join the internet of things (IoT), they constantly gather information and bump it to the cloud. With this sort of connectivity, you won't have to look at a log to track engine hours and determine when it's time for that 100-hour oil change. Your boat will do it for you. And when those 100 hours have passed, it'll send you an email or a text as a reminder. However, it is still important for you to regularly check on this automatic recording and reporting to assure that it is accurate.
While this advanced self-monitoring already takes place with some modern land vehicles, the marine world tends to lag a bit behind the automotive industry in the tech department. Today's Tesla, for example, not only tracks and facilitates maintenance and repairs, it also has remote diagnostic capabilities. As it stands in 2022, bits and pieces of this self-awareness are available on boats, but we have yet to see the complete package. We can, however, clearly see it coming.
Yamaha provides an excellent example.MyYamahaOutboards app already has logging capabilities, notifies the owner and the dealer when maintenance is due, and provides access to various resources like owner manuals and video tutorials. And Yamaha dealers and techs can tap into diagnostics remotely via their YDIS Smart app (a smartphone app for Yamaha outboard motor inspection and diagnosis). Still, while these apps are comprehensive, they don't take the leap of gathering every blip of engine data and transmitting it to the wider world. Yet.
Siren Marine's remote monitoring and control system, on the other hand, has the ability to gather information ranging from NMEA2000 data to bilge pump activity records and beam it out to the internet via cellular and/or satellite links. In December 2021, Yamaha announced its intention to purchase Siren Marine. At the time, Yamaha's president of U.S. marine business, Ben Speciale, said, "We want to be sure all future Yamaha products are connected because we know that is what our customers want — an integrated, connected boating experience." This tracks with Yamaha's "CASE" strategy, which stands for connected, automated, shared, and electrification.
Industry giant Brunswick appears to be going down a similar path. In 2018, it started the NAUTIC-ON brand, which produces marine IoT products with the ability to monitor your boat's systems more or less from stem to stern and beam the data to a secure cloud platform for storage (as well as providing maintenance alerts, remote monitoring, and more). Keeping a boat log of that information can't get much simpler. And while completely automated logging will only be a sliver of the utility an IoT boat delivers, it will also take logging to a new level — with little effort on the boat owner's part.
It's important to remember that some log entries, such as validation signatures, significant events exterior to the boat, preserving a record of changes made, certain entries of legal significance and many others are still important, and there is still an important role for that log book. For example, the sighting of a vessel afire on the horizon is still not adequately recorded by an engine — or that recipe for spam musubi you brought to the rake-n-scrape.
Fishing Logs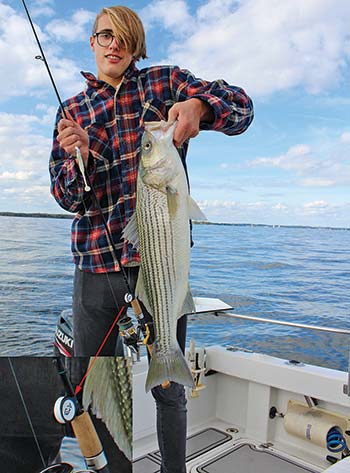 Photo: Lenny Rudow
Keeping a fishing log is a time-honored way of establishing patterns and trends, and many anglers swear by the knowledge they've gained by logging catches through the years.
For most modern anglers, logging takes place on an app, which automatically gathers much of the data. Factors like location, time of day, tides and currents, atmospheric conditions, and barometric pressure can all be tracked and recorded by the app itself, so the only thing an angler needs to do is register a catch. Most apps also allow for snapping a picture to record the fish they've caught.
Some fishlogging apps, like Fishing Log, don't go beyond recording data and providing some analysis via graphing or charts. But many, such as Fishbrain, Fishidy, and Fishency, go well beyond mere logging. Additional features commonly include weather forecasts, basic mapping, and/or social media sharing functions. There are a few unique features out there, too, such as Fishbrain's ability to identify a species for you when you snap a picture of a fish you can't identify. One of the most popular fish logging apps is Anglr, which may make for the easiest logging of all via a "bullseye" button that attaches to your fishing rod and connects with your phone via Bluetooth (as seen in the photo at left). When you catch a fish, merely click it, and the app records the catch along with all the pertinent data.
While virtually all modern anglers have taken to apps as the preferred method of logging, there's one downside that should be noted: Most of these apps utilize the phone's GPS and location services and may create a significant draw on the battery while active (especially in areas with poor service). Even accounting for this drawback, however, fish logging apps have made keeping track of your catch easier than ever before.