"Good morning, Mother Goose fleet! Radio check. Grey Lady, you there?"
"Grey Lady here."
"Nauti Otter?"
"Nauti Otter ready to go!"
"Aquila?"
"Ready!"
"Bonum Vitae?"
"Ready to go! Good morning!"
"Great! We've got everybody."
This VHF refrain between Deception, our lead boat, and the others in our group, launched each cruising day of our NW Explorations (NWE) Mother Goose Flotilla through one of America's premier boating destinations — from Bellingham, Washington, about 140 nautical miles northwest to Desolation Sound in British Columbia, and back, over two weeks in the fall of 2019, just before the pandemic.
In addition to Deception, NWE's 49-foot Grand Banks lead boat, were four other boats chartered by couples, families, and friends. Like many charter operations, this fleet of mostly trawlers ranging from 38 to 70 feet, and sleeping 4 to 6, are privately owned but available for bareboat charter when owners aren't using them.
For this dream flotilla, we were excited to explore the San Juan Islands, Gulf Islands, and Desolation Sound, as well as the charming villages, bustling towns, and secluded anchorages accessible only by boat or floatplane.
Setting Our Course For Adventure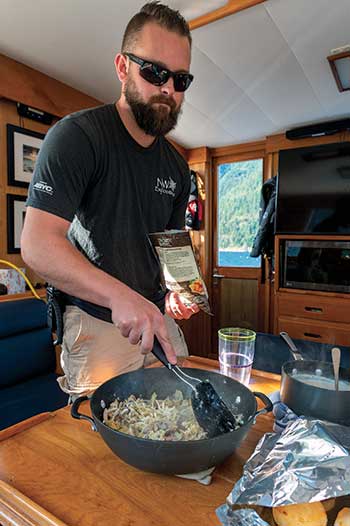 Capt. Jordan Pemberton wasn't just a great captain, he was
also a fantastic cook.
Our captain, Jordan Pemberton, stood on the dock alongside a 52-foot Grand Banks, wearing a blue inflatable life jacket and holding a VHF. Calm and confident, he spoke into the mic, instructing the trawler's skipper how to leave the dock, which required close-quarters maneuvering.
"Starboard reverse. Now back to neutral. A little port thruster. Great! Now straight ahead."
Jordan has spent most of his life aboard NWE boats, initially accompanying his grandfather, former owner Brian Pemberton, on summer flotillas to Alaska. In 2018, Jordan started leading the flotillas himself. In addition to being a seasoned captain, he's a certified diesel mechanic, skilled cook, and has a killer sense of humor. There's little he can't do.
Meanwhile, Deception's two other crew, naturalist Hannah King and marine technician Andy Novak, untied lines and assisted everyone as they set off for two weeks living the cruising dream. Some of the skippers had spent a day or more under the watchful eye of a captain, learning to handle their boats. Now here was their big moment — setting off on their own.
Deception was the last to cast off, and the other boats fell behind like a line of goslings — where the name "Mother Goose" comes from — as we motored out into open water. Hannah and I stood on deck, breathing in the crisp fall air, as we began the five-hour passage to Reid Harbor and Stuart Island where we'd spend the first night before crossing the Canadian border.
Flotilla? Worth It
During my two weeks aboard the lead boat, I became a flotilla convert. You're in charge of your own boat and have your own space while still having access to a full-service crew nearby, including a seasoned captain who knows the waters, can calmly talk a skipper through a complicated maneuver without breaking a sweat, can provide navigation waypoints for chartplotters, can adapt plans to accommodate weather, knows the tides, and can explain how to navigate tricky inlet entrances.
Oh, and the luxury of having a technician along to make repairs on the fly? We're talking boats. Stuff goes wrong, even when they're meticulously maintained — simple problems like an oven that won't light, to bigger ones like a water hose coming loose. Several times Andy transferred en route to one of the boats, tool bag in hand — a dodgy maneuver accomplished skillfully as we all held our breath.
Finally, there's your very own naturalist, whose knowledge encompasses everything from the history of the indigenous people to local flora and fauna. In addition to her eagle eye for scanning the horizon for breaching whales, and bald eagles perched along shore, Hannah could suggest great places to eat and shop at each port, gave kayak paddling lessons, and took guests on hikes or runs.
Together, the lead boat crew fans out to help charterers with lines, anchoring, and rafting up, shore tying, dropping and raising dinghies, getting fuel, plus topping off water tanks, navigating customs, handling trash, providing clean linens, cooking, entertaining, paying docking/mooring fees, contacting ports, and more.
While this first-class care was a main draw, each boat's crew had their own reasons for the trip. We had former cruisers who wanted a change from the trawlers they'd chartered in the past. We had sailors who wanted to try powerboating. We had experienced powerboaters who wanted to explore a new area. We had folks for whom this was their third trip with NWE and couldn't get enough. We even had a group of lively Aussies who went to university together and had come together for a reunion. We'd all learn from our professional crew, and from each other.
Exotica In Spieden
On our first day of cruising from Bellingham to Stuart Island in the San Juans, Hannah took to the radio to share a brief history of privately owned Spieden Island, once a hunting lodge in the 1970s and '80s that was stocked with exotic non-native game animals like Mouflon sheep, fallow, and Sika deer, and some 2,000 species of exotic birds. The business eventually went under, the animals left to fend for themselves. But rather than dying off, they flourished and have begun to inhabit nearby islands, like Stuart, our stop for the night.
Once our boats were tied to a floating dock in Reid Harbor, we dinghied ashore to follow Hannah on a mile hike to the old one-room schoolhouse, now a library and museum. (See "If You Go" below) We huffed up a hilly dirt road cut into the thick forest of cedars and hemlocks while Hannah explained that they were all second growth; a century prior, they'd all been felled to feed nearby lime kilns. Only about 15 people live on Stuart year-round. There's no electricity or services, and no public ferries as on many of the larger islands.
If You Go
NW Explorations runs local flotillas that begin and end in Bellingham, Washington, and travel to Desolation Sound, Princess Louisa Inlet, San Juan islands, and South Puget Sound. The Alaska flotilla departs in May and cruises the Inside Passage and Alaska before returning in early September. Guests can fly into Alaska for a two-week trip or book one of the three-week adventures to and from Alaska. Costs start at $15,000 depending on the vessel and destination. Whether part of a flotilla or cruising on your own, here are some trip details and highlights of the area:
Stuart Island, Washington (Northern San Juan Islands)
Tie to a public dock in Reid Harbor and dinghy ashore. Wander 3.5 miles of hiking paths, about a mile uphill to the one-room schoolhouse and Teacherage Museum, or a 2.5 mile jaunt to Turn Point Lighthouse. Purchase a souvenir (honor system) from the treasure chest on the trail.
Ganges, Salt Spring Island, British Columbia (Gulf Islands)
This eclectic community, the island's main service center, is home to artists, craftsman, and art galleries. There are plenty of services (groceries, banks, hardware store) within walking or dinghy distance. Ganges Market (Saturdays) from April to October features local produce, baked goods, honey, jewelry, pottery, and handicrafts.
Theodosia Inlet (Desolation Sound, B.C.)
Tucked away in the Desolation Sound Marine Provincial Park, accessible via Okeover Arm, go through a narrow, winding passage to enter this picturesque anchorage with mountain views. Enjoy calm water, which is warm in summer, or go for a paddle.
Prideaux Haven (Desolation Sound)
Located along the Gifford Peninsula on the southern shore of Desolation Sound, this is one of the area's most scenic anchorages. Made up of several protected inlets and coves, there are plenty of places to explore by dinghy or kayak looking for sea stars, sand dollars, and harbor seals.
Princess Louisa Inlet (Desolation Sound)
Go through the winding, tidal Malibu Rapids at slack tide; it can run up to 9 knots during peak flow. Cruise the 3.7-mile inlet past waterfalls cascading down granite cliffs to the Princess Louisa Marine Provincial Park, and see picturesque Chatterbox Falls, moorings, and public docks. Dinghy to the Malibu Club for a tour; this once-exclusive getaway for the rich and famous is now a youth camp. Or stop midway along the shore for an easy hike through new-growth forests. The adventurous can climb to the trapper's cabin, accessible from the docks; it's a two-hour round trip, or longer if you take your time or want to spend time admiring views at the top.
Cresting the ridge, we encountered T-shirts hanging on a line as well as a wooden treasure chest full of souvenirs for purchase. A local family keeps it stocked on the honor system. You take an IOU and send your payment in the self-addressed envelope when you get home.
Happy Hours, Happy Crews
Deception had everyone over for welcome cocktails our first night. Jordan smoked turkey and pork on the bridge and fried egg rolls, Hannah made guacamole, I chopped tomatoes and garlic for bruschetta. The other crews arrived with appetizers and stories, and we toasted and got to know each other. Having 17 people in the saloon was cozy, and terrifically bonding. On NWE flotillas, the lead boat invites each charter group over at least one night for dinner. Every night on our journey, conversations ran the gamut from boats and boating to travel and music and to hobbies, world events, sports teams, and on and on.
There was a group dinner at The Laughing Oyster overlooking Okeover Inlet, which followed a cocktail hour and Hannah's presentation on the indigenous peoples of the area. And there was the potluck dinner aboard Deception the last night to help use up any leftovers. Nauti Otter's crew had everyone over for appetizers, and the Aussies loved hashing out world problems over wine and spirits late into the night.
Hannah was a whiz at whipping up brownies or cookies in the galley oven. We marked birthdays, complete with a Happy Birthday banner pulled from the depths of a storage locker awaiting such a celebration.
Tip
Visit
BoatUS.com/Maps
to search for exclusive BoatUS Member discounts on marinas, fuel, charters, and much more.
There was plenty of quiet time as well. Raft-ups at the different anchorages were common, but each boat was free to anchor by itself. There were plenty of nights where the groups could enjoy quiet dinners aboard, or seek out restaurants on their own. There were moonlit trips to shore to stare at the stars and sip the quiet. There was playing in the black water to watch the glowing bioluminescence light up the night. There was no pressure to be together, but it certainly added to the experience.
The End Of The Beginning
A favorite part of the voyage together was the slideshow Hannah put together after collecting photos from each crew along with those from her own camera — a NWE tradition. She set the whole thing to music, and we had a fun watch party on Deception. There was much oohing, aahing, and laughter as each new photo appeared and we relived the highlights, merriment, and memories from our two weeks together. We could see through the photos how much confidence we'd all gained since we set out together. Hannah would send us each home with a USB drive of all the photos, along with a copy of the slideshow, plus everyone's contact info to make it easy to stay in touch with new friends — the perfect souvenir of our special moment in time together in the beautiful Pacific Northwest.