Top high-tech picks and cool new stuff from the largest sportfishing trade show.
You may not think of the fishing world as tech-heavy, but in fact, what was once as simple as putting a worm on a hook has evolved to include many modern technological wonders. You want to know what those highly advanced anglers have come up with? We visited the International Convention of Allied Sportfishing Trades show in Orlando, Florida, this summer to find out. Known simply as ICAST, this is the "premier showcase for the latest innovations in fishing gear, accessories, and apparel" — and there was a slew of the latest-and-greatest gadgets and gizmos on display.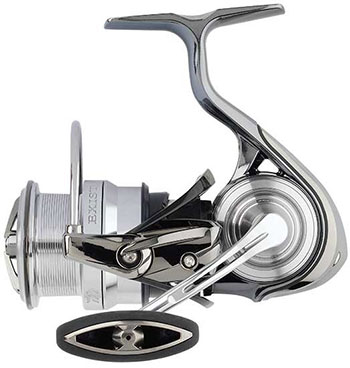 Daiwa Exist spinning reels were another eye-opening product that takes fishing tackle technology to a whole new level. These are Daiwa's top-shelf offerings, ranging from 1000 to 4000 sizes. They're shockingly light — the 3000 model, which holds 280 yards of 10 pound test, tips the scales at just 6.5 ounces — and when we picked one up we could hardly believe how feathery it felt in our hands. This is in no small part accomplished by utilizing a new monocoque design never before incorporated in a spinning reel, which eliminates the need for screws. That means the entire reel's footprint can be smaller, since the structure doesn't need to allow for screw housings. But the Exist holds an even bigger teched-out trump card: It's "Magsealed." There are magnets between the rotor and body, which is the place water intrusion is commonly problematic with spinning reels. There's also a membrane of magnetic oil inside. Yes, magnetic oil, also called a "ferrous fluid," with nanoscale particles that create a magnetic attraction in the oil itself. The force of the magnets holds the oil in place, forming a nearly frictionless seal that keeps water out of the reel. Nifty! $799.99–$849.99 | daiwa.com/us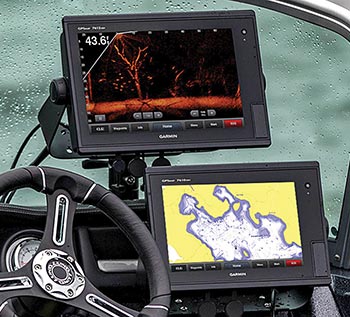 Garmin Panoptix LiveScope didn't just wow us, it wowed the entire show. It was not only voted Best New Electronics; it also won overall Best of Show. It's no wonder why — this new fish-finding system is so exact, you can literally see the individual fins of a fish. It can look forward (when utilized with a transom-mounted transducer) or 360-degrees all around (when paired with a trolling motor-mounted transducer).
There are several teched-out tricks that make this system unlike all other fishfinders. Rather than emit individual pulses (like a regular sonar) or a series of pulses of differing frequencies (like a CHIRP fishfinder), the Panoptix LiveScope sends out a multifrequency burst all at once via three different elements in the transducer. These elements are arranged at different angles in a fan-shape. At lightning-fast speeds, the Panoptix's brain stitches together the different transducer returns into a single image projected on the LCD screen. This enables the unit to "see" what's beneath the water's surface from the bottom to the top, 200 feet down and around. The same transducer also incorporates a down-looking element so you get views from directly above, too.
LiveScope also incorporates an attitude heading reference system that constantly adjusts the sonar beam returns to compensate for your boat's motion, so rough conditions don't alter the view.
LiveScope is compatible with a range of Garmin MFDs but does require a GLS 10 black box as well as the transducer. $1,499 | garmin.com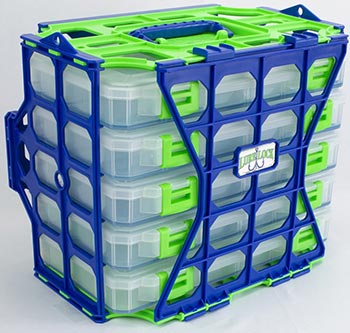 Lure Lock Lure Locker tackleboxes prove that even something as simple as a box can go high-tech. The Lure Lock itself is a soy-based, nontoxic gel pad that lines the bottom of individual compartments in your tacklebox. Push your lures (or accessories like bobbers and weights) into the compartment, and even if you drop your tacklebox, the lures will stay put.
The Locker part of the equation is an exoskeletal frame that clips around multiple Lure Lock tackleboxes, to secure them all together into one box. Not only will the system prevent mass tackle chaos, since it ends the lures jostling around inside their compartments, it also preserves their finish and the sharpness of their hooks.
Yup, this forward-thinking tackle system walked away from ICAST with a "best of" award, too, this one for Tackle Management. $15.99—$19.99 for boxes, $24.99 for the Locker, or up to $119.99 for a full kit including the Locker and five large boxes | lurelock.com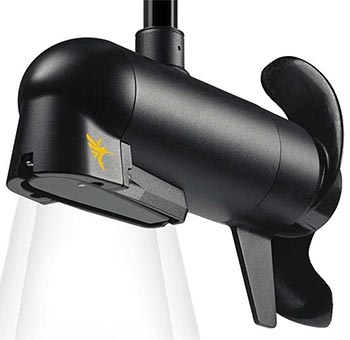 Minn Kota Ultrex/MEGA Down Imaging is another cool tech tool that came away from the show with an award for Best Boating Accessory. Unlike other trolling motor transducer mount systems, which are external add-ons that strap or screw onto the motor's lower unit, the transducer is built right in. It's an optional feature that Minn Kota is building into its Ulterra, Terrova, Ultrex, and Fortrex lines of electric trolling motors, incorporating a Humminbird MEGA Down Imaging transducer into the motor housing itself, thereby protecting it from damage. And the wiring is also integrated (it runs up through the motor's shaft) adding more protection and cleaning up the rigging. Price varies by motor model | minnkotamotors.com