Get to know the person behind the red shirt from TowBoatUS Lake St. Clair, located outside Detroit, Michigan.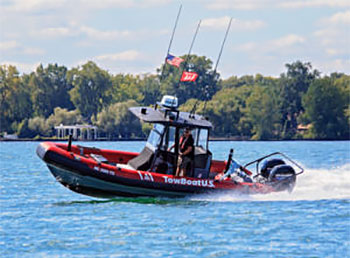 Captain's name? William Leslie
TowBoatUS port name? TowBoatUS Lake St. Clair
Coverage area? Lake St. Clair, Michigan
Captains in fleet? 17
Boats in fleet? 9
Best boat name you've seen? Seas The Day
Favorite boating snack? Something I can grab and munch on throughout the day. Beef jerky is my go-to
Favorite boating equipment or accessory? Working VHF, working navigation system, and knowledge of how to use both
Favorite fish to catch? I'm not much of a fisherman
Personal recreational boat? 2020 Regency Tritoon
Favorite boating destination? Strawberry Island or Gull Island with the dogs
First job? Working at a marine/boat dealer selling Bajas and Wellcrafts
Most memorable day boating? Hard to say. There have been so many!
What do you do in your free time? Enjoy time with my wife and our golden retriever, Toby
Most interesting tow? A boat ran aground in 4 inches of water with both motors running wide open, which dug a 6-foot hole that the boat sunk into
How did you get into the towing business? Always saw a need for it on our lake
Finish the quote in your own words: "At sea I learned ... how little a person needs, not how much."