The engine room can be a no-man's land to many first mates. This one wanted to hold her own and to understand what really makes the ticker tick.
Regina Krieger, the instructor of our all-women diesel-engine maintenance class, started by asking what brought each of us to the class. "It's cheaper than a divorce," said a fellow student. We all laughed, understanding exactly what she meant. It can be a challenge to learn from our boat partners and keep tempers from flaring in the process. Many lovely people make terrible teachers.
In just a weekend's worth of hours Regina, a U.S. Coast Guard Captain, American Sailing Association certified instructor, and experienced offshore skipper, proceeded to calmly and expertly take the black magic that happens between the key turning in the engine's ignition and the propeller moving the boat, transform it into logic, and blow our minds.
Our text for the course was Charlie Wing's How Boat Things Work, a great resource for boaters to have aboard. The book contains about 200 pages of exploded-view illustrations of everything from stuffing boxes to marine toilets — remarkably useful when trying to understand boat systems. About 20 pages of the book focus completely on engines. The engine illustrated in detail and labeled in the book is a Yanmar 2GM. When we arrived at the classroom, there was a Yanmar 2GM disassembled, the parts sorted into metal bins. Our job for the weekend was to learn what everything did and put it back together.
I knew a few practical basics about the diesel on the 1988 Passport 40 I own with my partner, Tim, but had very little understanding of engine mechanics. I could check the oil and assist in changing broken belts, impellers, and fuel and oil filters. But ask me what those things were actually doing? I had no idea.
Now I do. I learned exactly how a diesel engine uses seawater to cool itself through an ingenious system of tubes and baffles and how it regulates itself as it heats up with a thermostat controlled by a core of wax that expands and closes off the bypass. Who knew? We all found it completely fascinating. As we added items to our demonstration engine, Regina had us turn the crankshaft with a wrench so we could hear and feel for ourselves the intake of air, the compression, and the exhale of the pistons. All of the scary and unfathomable workings of the engine slowly became more familiar as we began understanding how each part functioned and worked together. Crankshaft? Head gasket? Solenoid? These are no longer empty words to me.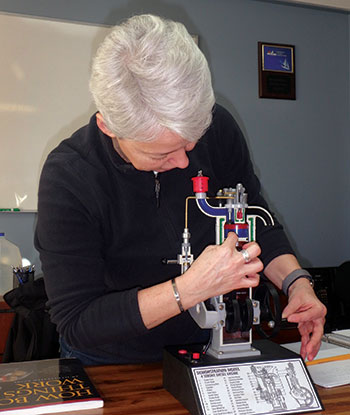 Regina Krieger, captain and instructor, uses a demonstration
model to help explain the four-stroke system.
Regina has a great poker face; she never gave away anything as she watched us try to determine where each part fit. She let us flounder around and encouraged us to ask her questions until we figured out why it wouldn't work where we were trying to force it. She helped us to make true connections in our own minds, never verbally elbowing us out of the way when things got complicated. By experiencing the interaction of the parts and understanding what they do, by acquiring the vocabulary and manipulating the actual functional parts of the engine, we slowly became enlightened, and it was exciting.
Our group worked together harmoniously — no one holding forth or acting the know-it-all, everyone encouraging one another. We may have started out the weekend saying things like "That little guy goes to the round thingie," but we finished it saying, "Please hand me the torque wrench so we can tighten those bolts attaching the cylinder head to the block."
Once the entire engine was completely put back together, we explored maintenance and engine problems, discussed what spares to keep on hand, things that could go wrong, how to determine what and why and how to address those problems. We learned how to troubleshoot the simple things first — engine overheats — is the seacock open? — before calling in the "nice people who take the big checks," as we called them.
I finished this great weekend knowing which parts of our boat I was capable of caring for, plus some troubleshooting and maintenance. Best of all, I came away with clarity, ready to have a more active relationship to our boats' engine, and that's given me confidence.
Take A Women-Only Course Near You
The diesel course Lesley took was open to all boating women — power and sail. It was offered by Narragansett Sailing School in Barrington, Rhode Island, organized by the National Women's Sailing Association and sponsored by BoatUS Similar courses are offered across the country. Here are more organizations that offer women-only maintenance or boat-handling courses:
— Claire Wyngaard