Who hasn't considered packing in the day job and heading off to sea on a round-the-world adventure? Read this excerpt from the book titled Escape From The Ordinary by Julie Bradley.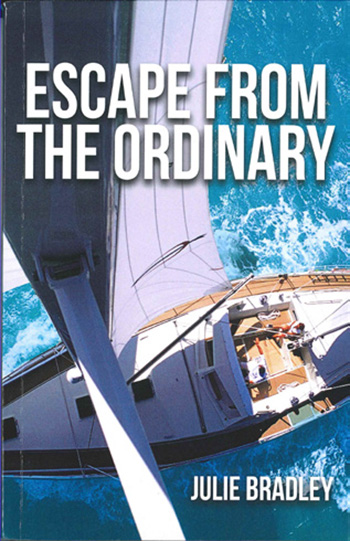 "Look Glen, the water is so blue, clear and shallow we can see the shadow of our boat on the sandy ocean floor! How cool is that?"
The scene rivaled any tropical island screensaver. With windswept trees leaning far over the white-sand beaches, as though they were stretching to preen in the mirrored water's surface. Starfish and conch on the bottom were barely distorted by the water and appeared close enough to pluck from the fine sand wafting back and forth around them in the movement of the waves.
The term "paradise" is overused, but that was the word that most often came to mind in the Bahamas. I like being warm; I like white, sandy beaches; I like water so sparkling I can see fish from the deck of the sailboat. In the Bahamas, anchor anywhere with a sandy bottom and you're guaranteed all those things.
Looking at a map you might think, "Big deal, the Bahamas are so close to the Florida Keys —how different can they be?" The differences are countless. The Keys, which we had explored from Miami, seemed off-limits to boaters. Any place we wanted to anchor was posted, "No Anchoring." In the Keys, boats are forced to berth in marinas, some that charge four dollars per foot (boat length!) per day. On a typical 40- to 50-foot liveaboard sailboat, that can get darned expensive. Add in a lot more people and boats to either enjoy, or contend with, depending on your mood, and the Keys didn't hold nearly the allure of the Bahamas.
Only a day sail from Florida, I thought the Bahamas would be packed with boats, but the tricky Gulf Stream crossing and cruising fees kept Floridians from invading in larger numbers. The Gulf Stream might look like a mere 30 to 40 miles wide area of strong currents, but it can be a bugger to cross. We did not want or need any more war stories, and a pleasant crossing was our goal. Having learned patience and humility (to an extent), we waited in Miami for the perfect conditions before setting out to cross the Gulf Stream.
There is one hard and fast rule about crossing the Gulf Stream in northerly winds: don't. Not even if it's blowing just a little north of east or west. In the center, the Gulf Stream currents reach speeds of 5 knots and so much water is forced through the area between the Bahamas and Florida that you actually travel uphill for the first half of the crossing. The strong north-flowing Gulf Stream current coupled with a wind blowing from the north-against the current-has a tremendous wave­building power. Steep seas can be created which are way out of proportion to the actual wind speed. On the other hand, in winds blowing with the current, from the bottom of the compass rose, the crossing can be downright pleasant. That's what we waited for.
On an early morning of mild, southerly winds, we departed Miami and dropped anchor in the Bahamas at dinnertime. We spent the night in solitude in what looked like still, open water, bordered by a stand of mangrove trees next to where we were moored. The water below was only 15 feet deep, which was shallow for us. The draft of our boat (the part of the vessel beneath the water), was six and a half feet, so we would be close, or on the bottom at low tide. That day marked the beginning of three months of getting used to the possibility of bumping the sandy bottom during low tide. My personal pucker tolerance didn't allow us to do that often — only where we could snorkel and inspect the bottom, checking for coral reefs or anything we could hit if we swung full circle on our anchor during the night. It may sound overly cautious, but on one of those inspection dives, Glen found a large refrigerator someone had dumped, which we would have hit when our anchor veered us in that direction. I could imagine Lloyds of London scoffing at an insurance claim for impacting with a refrigerator at sea.
On most of the sun-warmed days, Glen perfected his free-diving and spearfishing skills, and I snorkeled the reefs or walked the beach. We met sailors in the Bahamas who years earlier had planned a circumnavigation but could never found enough reason to leave behind those white sand islands and crystal blue waters. There were some 700 islands to explore and the Bahamian people were welcoming and friendly. I considered that I too would find it difficult to leave such a wondrous place.
Email: It's Enough
To: Dad, Jeanne, Johnny, and Mom
From: Julie Bradley


The Bahamas are fantastic; non-crowded, friendly, and welcoming. Sailboats are in the minority here. We anchor in bays next to huge powerboats that come for the sportfishing. Unlike those powerboats, we fish to eat. I like the powerboaters well enough, but they don't consider sailors real fishermen: 1) we troll off the back of the boat with a hand line, clothespin, bungee cord, and a hot pink, plastic squid; and 2) All we ever seem to catch is dorado (alias, mahi-mahi) or tuna. Normally we are not able to talk the talk with our brethren powerboaters at the dock. Today all that changed.
We left Bimini Island, a former home of Hemingway and base for dozens of sportfishing charter companies. Our destination was Cat Island, only five miles south. We decided to throw out the line on the hour-long sail. The boat was on autopilot and Glen was reading in the cockpit while I looked out for boat traffic. Glancing backward, I saw a big fish strike and yelled, "FISH ON THE LINE! ! ! " as the hook set. Then things happened fast. Battle stations! CODE RED! We had hooked a huge wahoo. If you don't know what that is, it's no surprise because you don't often see them on a menu. Wahoo have the fighting ability and looks of a barracuda with the sweet and firm taste of an alba­core tuna. Bringing it onboard is never a sure thing because its teeth are vicious and with a lucky snap, can cut through wire fishing leaders. We were motoring when we hooked the fish so I cut power and let the boat drift in order to help Glen muscle and gaff the 30-plus pound fighting wahoo onboard.
All this activity didn't go unnoticed. Out of thin air, sport fishermen saw us grappling with a prized wahoo. We were so absorbed bringing the fish aboard, we didn't notice several sportfishing boats had moved within 300 yards of us.
One fisherman hailed us on the radio, "Hey, sailboat!" and asked about our rig. We laughingly described our set up and gave full credit to our hot pink squid, which made us members of the sportfishing elite for about five minutes!
Love, Julie
White sand beaches, turquoise waters, and red sky sunsets ... I guess it's easy to get jaded anywhere, and I confess that was happening to me, until fate offered up a place totally unique within all the Bahamas. Having picked Cat Island at random from dozens of other islands on our path, we found it to be in a category of its own. Cat Island offered all the many delights of the Bahamas we enjoyed, as well as a chance to safely enter the dark underworld of potions, hexes, and voodoo.
When America won independence from England, many Loyalists — mostly wealthy plantation owners — were given land in the Bahamas under the British flag. Some set up plantations on Cat Island and brought slaves to tend the cotton and sugar crops, with many still operating. There were 15 or so family names on the island that reflected the planters from those days. The farming tradition persisted, and Cat Island was one of the few places in the Bahamas where inhabitants still worked their gardens, growing bananas, yams, papayas, and peas, just like their British ancestors did after fleeing post-revolution America. Walking in search of fresh produce to buy, we saw a tree adorned with strange hanging objects. Like a windblown Christmas tree, it sported the kind of ornaments one could find washed up on a beach like bleached whale and shark bones, fishing net floats, and glass bottles. It wasn't until we met Samuel, a British descendant who sold garden vegetables, that we learned what made the objects so special.
"You're not afraid, are you? You're not superstitious?" Samuel asked. (I lived on a sailboat — of course I was superstitious — but wanting to get the full scoop, said nothing.) Samuel continued, "Those slaves brought over from America started the Obeah. It's voodoo."
Samuel's voice took on a conspiratorial tone as he told his story of salt Obeahs. It was five minutes into the tale before I realized by salt he meant assault. Samuel described the power of an assault Obeah and the ceremony necessary to empower it in the local patois. He said, "There are other spells: love Obeahs, death Obeahs, wealth Obeahs, protection Obeahs ... "
My ears perked up and I interrupted with, "How much for a protection Obeah?"
"Julie's just kidding," Glen said, not wanting to get involved in the hex business on a remote island in a foreign country.
Samuel explained that important Obeah ceremonies were only held at midnight hours after we would be fast asleep on our boat so participating in the underworld would not be on our schedule. Samuel had now hit his stride and we were getting the full story. The tree-hanging paraphernalia represented a more passive form of Obeah. Believers prayed to the good and bad spirits they hoped to convince to occupy their everyday articles such as bottles, fishing floats, hats, and so on. When an item is hung on the tree, there is a special ceremony for the spirits to occupy the item, and once done, believers count on the spirits' influence and ask them for assistance. The darker side of Obeah involved placing curses on one's enemy; there were stories of islanders dying from Obeah hexes. There were also tales of people being saved through help from friendly, tamed Obeah spirits. According to Samuel, Obeah still thrived on the island. "Even up there," Samuel concluded and pointed up a hill to a monastery called the Hermitage.
Curiosity goaded Glen and me to climb to the top of Mount Alvernia, a whopping 206 feet — the highest elevation in the Bahamas. On the historical marker, we discovered it was also a Christian pilgrimage site where Father Jerome, a monk, built The Hermitage (no relationship to the renowned museum of art in St. Petersburg, Russia). Father Jerome was a recluse who lived in a cave while he constructed the retreat as a penance, stone by stone. We had seen the structure from the deck of our boat in the anchorage — after all it was the highest spot in the Bahamas, but never guessed it was a monastery. It appeared more like a "decalled medieval castle from the Dark Ages with parapets, domed roof, and bell tower. From the water, it looked quite large, but I was surprised how small it was as we stood before it.
Samuel told us Father Jerome was an architect before he felt the calling to be a monk. The monastery building had its oddities; constructed low and sparse, Father Jerome must have been very small. There was a feeling of foreboding, as though the reclusive monk had built it in such a manner as to discourage visitors. On the road leading up to the mount, Father Jerome had also built a sort of Stations of the Cross, which was more like a prayer obstacle course. You would certainly avoid its rocky path if wearing sandals, after a rain, or in the dark. A heavily ornamented tree close to the Stations of the Cross reminded us that Obeah voodoo played its hand even here, waving in the breeze on the monastery grounds.