Checking off these 10 things before getting out on the water could make your day.
You've ripped off the shrinkwrap, de-winterized the powerplant, and lovingly rubbed a fresh coat of wax on the hull, but are you really ready for your shakedown cruise? It's been a long, cold winter, and we're all excited — no, thrilled — to get our boats back into the water ASAP. But hold on there a moment, captain, and let's slow things down a bit. Even though your boat's been mothballed for months and you've gone through the usual pre-launch preparations, your shakedown could be disastrous if you don't take the time to check for these 10 common safety glitches, which can strike no matter how uneventful the winter layup may have been.
1. Bilge pumps and switch snafus.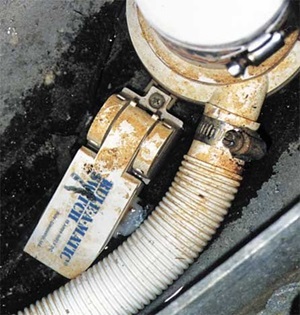 Your boat may have been covered up and on the hard with the drain plugs pulled, but that doesn't guarantee that no water made its way into the bilge. An unseen leak or a little condensation is all it takes to create a puddle or two, and if one of those puddles formed around your bilge pump or the pump's float switch, there could be trouble ahead in the form of freeze damage. Before you even dream of splashing Mom's Mink, test your pumps, both at the helm switch and at the auto switch. Make sure the float switch is not just working, but also swings freely and smoothly. If you have a magnetic float or one of the solid-state, water-sensing variety, you'll have to work a little harder to give it a test. Put a gallon or two of water into a plastic trash bag, and slide the top of the bag over the switch. Then pull the bottom of the bag up, so water pours in and surrounds the switch as you hold the bag around the perimeter. Yes, you will get wet, but it's worth it to know the switch is functioning as it should.
2. Hoses and thru-hull crack-ups.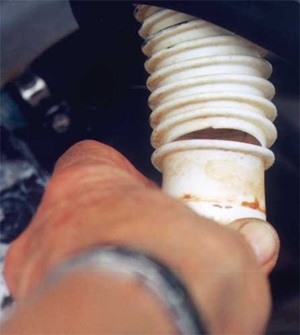 Ice damage can be a problem here as well, especially if your boat was previously owned by a do-it-yourselfer. People often replace hoses with the wrong types, and, below the waterline, this can be disastrous. Most boaters already know to give hoses and thru-hulls a visual inspection in the spring, but that's not good enough. Give those hoses a tug and a twist, while watching attachment points, hose clamps, and droops, for any unexpected movement or cracking. There could be unseen ice damage anywhere water could have collected and frozen. Pay particular attention to the anti-siphon loops found in discharge lines (the loop in the hose which goes above the waterline and prevents water from back-flowing into the bilge). While the loops are absolutely necessary (and required by ABYC standards) water can sit — and turn into ice — in any low spot, damaging the hose.
3. Communications breakdown.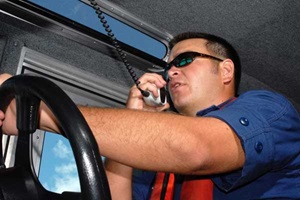 How many times have you left the dock only to discover that your VHF radio wasn't functioning properly? Dead mics, glitchy connections, and internal gremlins always seem to cause problems after a long layup, even though the radio may have been well-protected and under cover. If you usually do your spring radio check during your shakedown cruise, you won't discover the issue until — once again — your radio fails to work when you're already underway. So this spring, do that radio check before you cast off your lines. If you make your initial run early in the season and air temperatures are still below 50 degrees, pay extra attention to plastic VHF antenna mounts. These tend to get brittle in the cold, and can snap if the antenna whips back and forth violently. And for future reference, it would be a good idea to upgrade that plastic mount to stainless steel. Don't forget to check your handheld radio, too — make sure it's charged and ready to go.
4. Lower unit disaster.
Picture your first launch of the year: It's a beautiful spring afternoon, for the first time in months you feel the humming of the engine as its vibrations run through the fiberglass, a cool breeze blows through your hair, and then, there's a sudden KA-CHUNK! Forward motion ceases. Your boat settles into the water, and you're stuck. Bummer. What could be worse than blowing your lower unit, on your first trip of the year? Water intrusion in the gearcase over the winter can lead to such a disaster, yet go unseen during spring outfitting. Even a tiny amount of water can cause freeze damage that cracks metal and pops seals. Finding the problem and taking care of it before you run the boat will save a lot of time and money on repairs. So check the lower unit to make sure it's full of clean lube before that initial launch. Also check the ground below the skeg, and look for drips. Should you see any, head directly for your marine mechanic. If you make a habit of changing your lower unit lube in the fall, when you pull the boat for the season, you'll spot any water in the mix before it has the chance to freeze and cause harm.
5. Water in the fuel.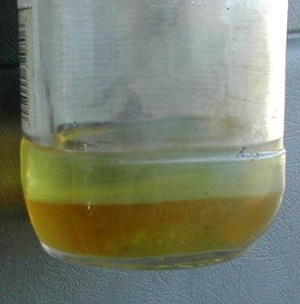 BoatUS has always recommended leaving built-in gasoline fuel tanks full over the winter to prevent condensation and avoid problems with water absorption and phase separation of ethanol. Even assuming you laid the groundwork by treating the fuel with a reliable stabilizer last fall, you still can't count out condensation. So, before you launch, drain the fuel-water separator to be sure the fuel in it is 100 percent water-free. Then halfway through your shakedown cruise, check the bowl and drain it again, if necessary. Give it another look-see when you return to the dock. Make a habit of checking that bowl regularly throughout the season, and be sure you spin off the cartridge completely and check it for corrosion at least once this summer — these things are notorious for becoming rusted in place. If your boat runs on diesel, pump a pint or so into a plastic bottle from the bottom of the tank and let it sit for a few hours. Make sure no water separates out, and the diesel is clear. If the diesel has water or algae in it, see if you can arrange to have your fuel polished (filtered multiple times to clean it) through your boatyard. Gasoline can also be polished to remove contaminants and water, but make sure it has not phase separated if it has ethanol in it. If it has, the octane level will be too low and could damage your engine.
6. Broken boots.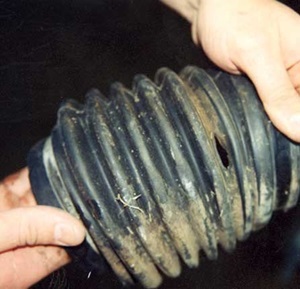 Sterndrive boots are notorious for leaking, and with good reason. Cracking due to age is the usual culprit, but it's important to remember that a boot which looked good in the fall can deteriorate a shocking amount over the winter, especially if it sits in the same position the entire time. You're probably already aware of this issue, so we're pretty sure you'll closely examine the creases for any visible cracking before, during, and after raising and lowering the drive. And we have complete confidence that you'll look closely for barnacles, oysters, and other hard-shelled growth in the boot's creases, where it may have escaped notice last fall when you put the boat away, since they can cut into the rubber when you tilt the drive up and down. We're also sure you'll remember to check exhaust and cable bellows, too, if your boat has them. But we're also hoping that as part of your spring routine, you won't clean the boot with a potent petroleum-based or acetic cleaner. It might seem like a good idea to make that boot shine but these cleaners can speed the aging process and increase susceptibility to UV damage. When you initially launch the boat for the first time this year, even if all looks well, lift the engine hatch and give it a hairy eyeball for water intrusion.
7. Clogged drains.
Sure, leaves and twigs can pose a problem if they clog things up, but critters — especially wasps — like to build nests in those tubes. Once they do so, clogs can build up fast, and you can't see them from the outside. Clogged scuppers and deck drains are a safety glitch that can lead to life-threatening situations, so a visual inspection prior to launch is simply not sufficient. Take a hose and send a healthy blast of water through those scuppers and drains to be absolutely sure that the beginning of a clog isn't escaping notice. Do the same for fishbox, live well, and stowage compartment drains as well, so you know they're all completely clear.
8. Dated gear.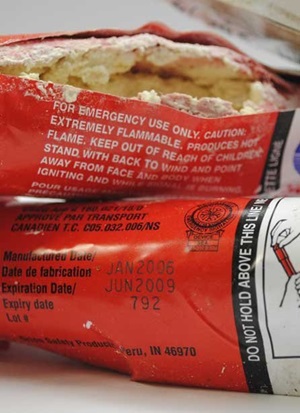 Okay, this is an obvious one. Yet it's worth bringing up because year after year, the Coast Guard busily writes citation after citation for expired flares and empty fire extinguishers. It may seem like you replaced them just yesterday, but the seasons slide by so quickly it's easy to lose track. Flares expire 42 months from the date of manufacture, not the date you bought them. Don't even think of launching this spring until you've checked and double-checked expiration dates and charge levels. Otherwise, you could end up with a ticket, or worse yet, in an emergency situation with ineffective safety gear.
9. Fogged plastic windows.
This is a common self-inflicted wound, which can reduce your visibility from the helm for years to come. Your boat's see-through plastic curtains (Isinglass or acrylic) are sure to be dirty and in need of a good cleaning now that spring has begun. But if you try to shine them up with Windex or a similar glass cleaner, by the end of the summer they'll be yellow and cloudy. Ammonia is the problem; the plastic reacts with it and becomes hard to see through. No, this won't cause your boat to sink. But it could keep you from spotting a semi-submerged log, a crab trap float, or some other flotsam you most certainly do not want to strike — any reduction in visibility is an increase in danger. So leave the glass cleaners at home, and instead, shine up your see-through plastic with a dedicated plastic cleaner like Plexus (regular lemon Pledge works well, too).
10. Slip sliding away.
We all want to make our boats look good before putting them into the water for the season, and wax plays a big role in this endeavor. But while wax will make your deck look shiny, it will also turn your deck nonskid into sure-skid. While most people wouldn't think of applying the stuff they use on their hullsides to the cockpit sole, steps or grab rails, you also need to resist the temptation to wax the gunwales, which people often step on while boarding, and any traffic areas on the coachroof or coamings. For those areas, get a deck sealer/finish specifically designed not to leave a slick surface behind, like Aurora Sure Step or Woody Wax. On metal steps and grab rails, ignore the wax entirely. Rub the metal down with a lemon peel or a sponge sprinkled with lemon juice, and then give the metal a light wash with regular boat-soap. That will get you a good shine, without making the surface slick.
Of course, these 10 spring snafus only scratch the surface of what you need to do — and what can go wrong — when it's time to launch your boat after a long winter layup. Batteries need to be charged, electrical connections need to be checked, engines need to be tuned, hoses need to be inspected, fittings need to be re-caulked, and so on. Avoid these 10 safety glitches as you prep for that initial launch, and you should be in for a great season of boating — ASAP.