Tackling this fabled West Coast circuit can be intimidating. But with a well-planned itinerary, sound boat, good crew — and these expert tips — it's heaven on earth.
The Inside Passage up the West Coast is one of those bucket-list trips for many American and Canadian boaters. At more than 1,000 miles end to end, the network of passages that weave through the islands of the Pacific Northwest to Alaska contains a lifetime of places to explore. The Passage begins to the south at Olympia, Washington, in Puget Sound, then snakes its way north through more than 600 miles of Canada's British Columbia before winding through the southeast Alaska panhandle from Ketchikan, past Juneau, all the way north to Skagway.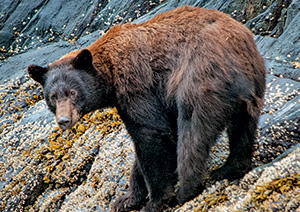 The scenery is astonishing. This is a place of stark beauty and amazing contrasts. There are stunning high-sided fjords in the north sections with tidewater glaciers, miles upon miles of conifer-covered shorelines with secluded anchorages that include views of snow-capped mountains, remote fishing villages, and to the south, even a few big cities. There is wildlife everywhere: whales feeding in quiet passages, bears wandering along the beach, bald eagles perched in trees along the shore. Bring a wildlife guide, because the volume and variety of species are plentiful.
Photo Credit (above and right): Christine Smith
Best of all, it's almost entirely in protected waters, so is suitable for boats of any size within reason. The boating season in the region runs from early March through late October, and some boaters even cruise the southern sections in the winter. When it comes to boaters and bucket lists, these are cruising grounds that, once checked off, prompt an immediate urge to return. So, before you head north to Alaska, here are some simple tips that my wife, Christine, and I have developed, after completing this passage from Bellingham, Washington, all the way to southeast Alaska every charter season for several years aboard our 1929 converted 65-foot wood cannery tug.
10 Firsthand Tips To Make Your Own Inside Passage Cruise Safer And More Enjoyable:
1. Have a reliable shoreside contact.
This is hardly a full-time job, but someone to answer your texts or other communications, receive packages and ship them on to you, or occasionally pass on a weather report, is invaluable. Mostly, it's nice to know you have a contact person, and it may only cost you flowers and a bottle of wine.
2. Get a satellite texting device.
There isn't cellphone coverage for much of the Inside Passage, so these little devices allow you to send and receive a short text message from anywhere. We use a Garmin inReach (about $300), but it's also available from SPOT. Not only can you contact people, you can have it track you so others can see where you are and know you're OK. More than once, my sister has checked in on us because we hadn't moved for a day or two. (We were fine.) We now carry two and use the other in our skiff for exploring and shore excursions. In some of the high-sided fjords, VHF is useless, but the inReach comes through.
3. Sign up to be a "Known Shipper" with Alaska Airlines.
This little detail can save you tons of hassle. Alaska Airlines has a fantastic air-cargo system called Goldstreak that you can use to get parts (or almost anything else) shipped in case of a breakdown. Even if you have to hire a local to do the repair, being able to get the parts can mean the difference between being stuck at a dock for days or continuing on.
Our system is to buy the part/piece/ equipment and have it overnighted to our shoreside person. We've even done this via the inReach. She takes it to the airport, and we get it later the next day. You may never need this, but it only takes a few minutes to sign up, although it takes a while to get approved.
In the southern half of the British Columbia coast, Kenmore Air offers floatplane passenger service to a number of locations. It's also able to transport boat parts, so if you're broken down in that area, the company can help. Because of the international border, there are some simple requirements: It can only transport "emergency boat parts to U.S.-registered vessels in distress" in its northern service areas (Campbell River and the Northern Inside Passage). Make sure your shoreside person can provide Kenmore with a receipt or invoice showing its value, too, because Canadian Customs (CBSA) will require it for all items, new or refurbished.
4. Get a good tide and current guide.
The tidal rapids in the southern section of the Inside Passage can cause anxiety among first-time cruisers, but they're surprisingly easy if you show up at the right time, at slack water. And while most electronic navigation programs will have the times of slack and max, the paper guide will confirm it for you, and give you peace of mind. There are lots of choices for a paper guide. We use Ports and Passes even though it's available on our Navionics, OpenCPN, and Coastal Explorer. Once you know the time of slack water, plan so you arrive a little early and you can go right through. If you're going in the direction of the tide, that's the perfect accelerator; use it to your advantage by positioning yourself at the right time.

5. Get the right guidebooks.
People fret a lot about what to buy. There are so many choices of cruising guides. There are numerous guides for sections of the trip, the San Juans, the Broughtons, the Secret Coast, and so on. But the guides that cover the most area with the most information are the "Exploring" books: Exploring the South Coast of B.C., Exploring the North Coast of B.C., and Exploring Southeast Alaska. They also offer the best picture of cruising in this area. For wildlife guides, you'll want The Sibley Guide to Birds, Plants of the Pacific Northwest Coast, and Nature of Southeast Alaska.
6. Don't get too stressed about spares.
Trying to figure out what to bring for spares stresses out a lot of first-time Inside Passage cruisers. Alaska and the B.C. coast are well stocked, and even if you need something and can't get it locally, you should be able to have it air freighted to you. Focus on parts that break or clog or wear out, like rubber impellers, fuel filters, and engine belts. Things you could fix by yourself in a remote wilderness anchorage are useful. A box of oil filters takes up precious space, even if they are cheaper in the lower 48.
Photo Credit (above and right): Christine Smith
Things To Remember If You Go:
Bring fishing and/or crabbing gear. It's some of the best salmon, halibut, and Dungeness crab fishing in the world. (You'll want to get your fishing licenses online beforehand. For Alaska waters, go to adfg.alaska.gov and select Fishing>Licenses & Permits. For Canadian waters, go to pac.dfo-mpo.gc.ca and select Fisheries>Recreational Fishing>British Columbia Recreational Fishing.)
Bring foulies and warm clothes. The weather can be wet, and temperatures get mighty chilly as you approach glaciers.
Make a point of visiting the small towns along the way. They are interesting and welcoming. You'll learn a lot about local history and indigenous people, and you'll get a real taste of the rugged folks who choose to live in this remote wilderness.
Be aware of the many large cruise ships in the area. Not only are they intimidating, their wakes are large and sometimes bounce off narrow passages, and they can roll your boat for a surprisingly long time. Try to keep items carefully stowed as if you were going to sea so you'll be ready when you encounter them.
Don't count on much sailing. Winds are often nonexistent or light from the north, or strong southeasterly with uncomfortable seas.
If it's possible, anchor pretty far from shore and bring bug spray. The bugs aren't usually bad, but when they are, the mosquitoes are Alaska-sized.
You'll want some bear spray, which is sold all along the route and is very effective for defusing an aggressive bear encounter. It's what the Alaska guides use, plus, it's legal to carry through Canada. (Handguns are not.)
Carry a lot of anchor rode and be prepared to anchor in a lot of really deep places. A reel of small line is useful for adding a stern tie to a tree on the beach, a common anchoring practice in deep harbors. Some of the most beautiful anchorages are 50- to 100-feet deep.
You'll encounter many whales. The laws say to not bring your boat within 100 yards (100 meters in Canada) and more in some areas, and you'll get a much longer show if you watch from a distance and don't disturb the animals.
– CHARLES FORT
7. Carry a good emergency kit for boat repairs.
Most people know about softwood plugs or TruPlug that you can use to stop a leak in an emergency. But my kit contains a few other items that have been helpful at times. Dr. Shrink Tape is amazing stuff that sticks to absolutely everything and can make a quick patch of a crack in your topsides or a leaky skylight or hatch. It may not be pretty, but it will allow you to continue cruising in comfort. A product called Through the Roof is a great sealant that works even in the rain (we've even used it underwater). A can of spray foam and a couple tubes of 3M 5200 (get the toothpaste- tube style) are also worth carrying. Also, add some super glue to the list.
8. Check on your insurance.
Most boat insurance policies have limits for where you can take your boat and still be insured. Insurance through BoatUS covers people with a U.S. address while they're cruising in Alaska, and you can get a seasonal extension for Canada. You typically need to ask for an extension, and sometimes there's an additional charge. If it's based on a latitude and you plan to cruise the entire Inside Passage, make sure you choose 59° 27.0N (Skagway, Alaska). Most other companies offer similar coverage. Towing is usually included, even in Canada. But a quick email to your company would confirm that you're covered for the area you want to cruise.
9. Take the boat you've got.
No matter what size or age of vessel, you're still going to watch the weather and navigate based on your craft. Also, a boat you're familiar with is going to be less stressful to cruise in than a new-to-you boat. Your voyage should be about exploring, seeing the scenery, and learning about wildlife along the way. If you don't have a boat, there are many options like bareboat chartering with a cruising in company flotilla offered by Northwest Explorations and others. There are also several good options for smaller chartering opportunities on crewed charter boats.
10. Take enough time to do it right.
There's nothing worse than having to rush home without seeing as much as you'd hoped, or skipping beautiful spots because of time constraints. Being in a rush is also a good way to force you to make bad weather decisions. Six weeks is the very absolute minimum, and 12 to 18 weeks would really allow you to immerse yourselves. If you have other summer commitments, you can always leave your boat and fly out, returning when your outside commitments are done. Take as long as you possibly can. Trust me on this. Take your boat and go.