Introducing four Black women in love with boating and teaching. Their experiences, hurdles, and accomplishments paint an inspiring picture.
I was born on the Eastern Shore of Maryland, the only child of a father who loved to fish and a mother who didn't like boats and could be found waiting by the door if we were late coming back from a day on the Chesapeake. For years, fishing on a small boat with my father was the only kind of boating I knew.
On a high school graduation trip to Mexico years later with my daughter, we took a catamaran sail around Isla Mujeres. Minutes in, I promised myself that as soon as we got back to Maryland I'd find this same experience close to home. That's what happened. I discovered a network of passionate boaters and divers, of all colors, brought together by their love of being on the water.
On the Eastern Shore, most folks are one or two degrees of separation from a boater. One day, in conversation with an acquaintance, talk turned to anchors and how to avoid dragging. I chimed in with my experience, and he replied with skeptical surprise. "How would you know that? You don't look like someone who knows anything about boating."
I think of my mother when I replay that conversation in my mind. She, too, was often the recipient of that same surprise when she showed up in certain places, often with me in tow. An avid collector of information on the history and accomplishments of Black people, she was often invited to give presentations, and I still treasure some of her newspaper-on-construction-paper collection of notes, news clips, and research folders.
As much as I'm my father's daughter when it comes to loving boats and the water, I'm my mother's in terms of preserving and spreading the good word. I've gotten to know the women in this article and wanted to share the stories of their success, their drive to excel and inspire, and imagine how we could further open our boating lifestyle to others who've yet to discover its joys.
Sandra Smith
Chicago Yachting Association Commodore
In the summer of 1995, the last thing Chicago native Sandra Smith, a personal banker, expected to become was a boat owner. One Sunday morning, her brother mentioned to Sandra and her husband, Dwayne, that he knew someone at a city marina with a boat for sale. A few days later they "went from no boat to a 34-foot power boat!"
The men couldn't wait to take it out, and the maiden voyage was chaotic, including a stalled engine and man overboard. Those humble beginnings led Sandra's drive to become a knowledgeable powerboater. She and Dwayne joined a local yacht club, and she rose the ranks from secretary to become the club's first African American woman commodore. She started strong, first raising money for the club, personally overseeing its restoration after fire damage, and developing family boating events. There were challenges, she remembers, brought on by "old boys' club" traditions.
"They weren't ready for a woman," she laughs. But Sandra was ready. While commodore, she attended meetings of the Chicago Yachting Association, the consortium of Chicago area lakefront boating clubs. She was invited to become CYA's treasurer, in 2018 became its first Black woman commodore, and made it her mission to focus on Chicago's children. Just don't call them "inner-city youth" around her. "That drives me crazy!" she says. "They're just kids. Young people of color need to see that there are people who look like them who own boats."
Sandra recalls the first year of CYA's youth outreach. It was sunny and cloudless when 50 children were treated to a day out on Lake Michigan with school supplies and backpacks funded by a generous donor. The second year, high winds kept them off the water for a while. Determined to salvage the day, Sandra's husband and other club members took the kids for shorter boat rides. A couple of boys looked unimpressed, questioning why they were there.
"I had something to change their minds." Out of view from where they stood, her cousin's boat sat in a slip. When she showed them the 38-foot performance powerboat, resistance turned to nonstop smiles. "You could own a boat like this," she told them as they stared. "You never know what's in store for you if you work at it. I never thought I'd own a boat either, and I do. I never thought I'd be the leader of a yacht club, and I am. You can be who you want to be."
With the help of volunteers and the support of CYA, the event's second year was another great success. "Everything I've brought to them, everything I've ever asked of them, they've been behind me 100%." The membership convinced her to remain commodore for an additional term.
These days, Sandra's perfect Sundays are spent aboard the couple's Wellcraft 34, Scorpion's Den, with friends and family, playing Frankie Beverly's "Golden Time of Day" while the sun goes down over Lake Michigan. Commodore Sandra Smith says this is the golden time of her life.
Ayme Sinclair
Racing Sailor & Marketer
When friends invited her to sail the Caribbean with them, Ayme Sinclair enrolled in the American Sailing Association's basic keelboat course, ASA 101. The trip never happened, but a love of sailing did. When a coworker invited her out on a racing boat, she jumped right in, leading to a spot on Sweet Caroline, a J/109 that competes throughout Long Island, New York, Connecticut, and Rhode Island.
On the racing circuit, there aren't many teams that look like Sweet Caroline's. To highlight the diversity of the half-female, multicultural crew, Ayme created an Instagram account that's grown to 60,000 followers, leading to opportunities for similar work and the launch of her marketing and communications agency, Sinclair Social. The freedom that came with being her own boss opened the world to Ayme. "I try to travel where I can sail," she says, counting Spain and the Caribbean among favorite places. But it was a vacation to the Kenyan coastal area of Lamu that changed the game.
Her arrival coincided with the island's annual dhow race festival. "Everyone looked like me!" she recalls, with one notable difference. In a community surrounded by water, using boats for transportation, there wasn't one woman in the race. Ayme entered. Naysayers showed up with a list of reasons why a team of women shouldn't participate: "Women aren't strong enough!" "Local women can't swim!" "You're not used to sailing a dhow and will capsize!" Undiscouraged, Ayme recruited a team of women, including her traveling companions, a woman from Nairobi, and two from Lamu. Despite the language barrier, and with only one day to train, they pulled it off.
That day, the shy woman from Lamu became a leader, calling out a chant as the team ran down the beach to their boat. They finished the race ahead of teams that had won prior years, thrilling local women, who began asking their brothers and cousins to teach them to sail. Ayme was gratified to see that "this thing I love to do could make such an impact." The African success at Lamu inspired her to create Sailing Noire, an Instagram page celebrating and encouraging diversity on the water.
There's still distance to go. She and other boaters of color share tales of mistaken identity — sometimes with humor, sometimes disappointment. At the Annapolis Sailboat Show, while waiting to meet a contact, Ayme was assumed to be a worker handing out magazines instead of the Black woman boater profiled within its pages. After being mistaken for the help too many times, she now wears her official team gear at sailing events. She's on a mission to bring people of color into boating whenever she can.
Naysayers showed up with a list of reasons why a team of women shouldn't participate.
In 2019, Ayme successfully mobilized the boating community to welcome the arrival of young climate activist Greta Thunberg and Malizia II to New York Harbor. Afterward, Ayme was invited to address the 2019 United Nations Sustainable Development Group about how she helped create one of SDG's most successful social media campaigns, reaching more than 50 million viewers.
As vice president of the National Women's Sailing Association, she also works on a series of diversity initiatives including the AdventureSails program to introduce girls, especially African American girls, to boating.
Maura Hackett
Tug & Tall Ship Captain
In the months between her junior and senior years of college, on a whim, Maura Hackett became a tall ship trainee learning traditional skills aboard Picton Castle, a three-masted barque out of Lunenburg, Nova Scotia.
"It was much colder and wetter than I expected!" she recalls. "I wasn't 100% sure this was for me."
But a seed had been planted. Despite the cold and wet, Maura went on to crew aboard Lady Washington, Hawaiian Chieftain, and several other vessels before attending Boston University where she earned a master's in public health. Over the years that followed, she rose from trainee to U.S. Coast Guard 100-Ton Master.
"Some vessels focus on the history of a region," she says, "and that's great. But science drew me to tall ship sailing, and boats provide the perfect setting for hands-on science lessons, such as the chemistry of water and the historical impact of pollution on coastal communities."
Once, in South Carolina, a group of school kids visited her boat. They lived near enough to walk to the harbor, but hadn't realized how close it was. "Is this the ocean?" they asked. "Where does it come from?"
"It's fundamental that kids have the opportunity to discover and enjoy the water, to understand their connection to it, its impact on their lives," Maura insists. "That's how they'll learn to protect it, and see that it's not just a playground for the wealthy."
After years on tall ships, Maura made South Street Seaport in New York City home base, becoming relief mate and educator aboard the restored 19th century schooner
Pioneer. When Superstorm Sandy struck in October 2012, Pioneer was up the Hudson for annual educational programming. Turned away from two marinas, the crew tied to a dock where Pioneer had sheltered the year before.
Between storm surge and a super-high tide, Pioneer rose 4 feet above the rigid dock. Their lines floated off the pilings, leaving the ship connected by only a spring line and power cord. Casting off, they clawed as far as they could against 85-mph headwinds, and anchored for two wild days. "It was the most surreal transit I've ever made," she recalls. "We saw boats in trees!"
Maura's experience was in demand. She helped revamp the educational program aboard the schooner Adventure out of Gloucester, Massachusetts. Then in 2017, she rejoined South Street Seaport with Lettie G. Howard, and worked on restoring South Street's 1930 tug WO Decker, in winter 2018/19. Inspired by her mother's commitment to education, social work, and advocacy, Maura is currently the director of operations for NEO Philanthropy, Inc., a public charity committed to social justice.
In February 2020, Tall Ships America held its annual conference of crews, educators, and administrators in Florida. Maura was invited to co-present a seminar on diversity and inclusion to explore unconscious racial bias in the boating world. Her workshop had a full house and earned one of the highest ratings of the conference.
As far as she knows, Maura may be the only woman of color currently serving as captain on a tall ship. Her appearance on board is often met by surprise followed by disbelief that an American woman of color could be captain. "No, where are you really from?" is a frequent question.
"It takes a lot to be the only one," she says. "I'm inspired when little girls realize there's someone who looks like them in command of a crew of professional mariners."
Marie Rogers
Bluewater Racer & Teacher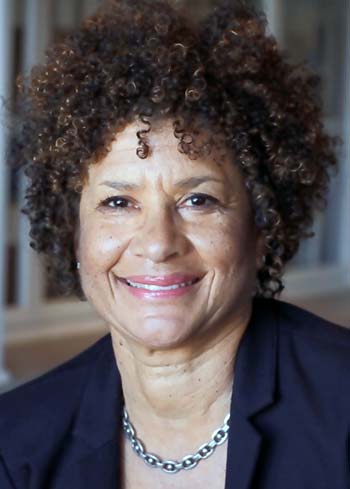 Marie Rogers.
Marie Rogers remained friendly with her ex-husband, and when he bought a boat, they sometimes sailed together with their son, Colin. The daughter of one of the first Black lifeguards in Los Angeles County, Marie had grown up loving tennis, skiing, marathons, and hiking, and took to sailing instantly. When Colin joined the junior club of the Los Angeles Yacht Club, she became a "junior mom," shuttling him back and forth between events.
Watching her son crew on racing boats, Marie longed to be on the water, too, though no invitations were forthcoming. One day, someone mentioned that "Colin's mom knows how to sail," and LAYC board member Bill Rogers, who ran the junior program, invited her to go sailing to Catalina Island on his 70-foot sled. When he handed her the wheel, she remembers those 15 miles at the helm as "pure exhilaration." More sails turned into dates. Two years later they married, creating a blended family of eight sailors.
Being a woman skipper has competitive benefits. No one expects you to win!
In those first boating years she noticed that, often, men were automatically expected to have and share boating knowledge with one another. But when she asked questions, she got incomplete or confusing answers. So she enrolled in ASA 101, quickly learning how to dock and cast off, hank on a jib, and the points of sail. "I can't believe I hadn't fully understood that!" Energized, she decided to become a sailing instructor and along the way earned her captain's license.
Her experience on the water is so full of joy, she says, that she doesn't dwell on the negative, but admits, "It was frustrating not to be taken seriously, or to be faced with the constant assumption that I didn't have the necessary skills." Sometimes she'd show up to crew and people assumed she knew nothing. So she just dove in and took on whatever needed doing — trimming, docking, driving, grinding — quietly proving herself.
In 2019, she was one of the few women in the 2,225-mile Transpacific Yacht Race from San Pedro, California, to Honolulu, Hawaii, aboard the DK46 Cazan. "It's almost impossible to find a Black woman at the helm of any boat in Southern California, and even rarer on race boats. But being a woman skipper has competitive benefits. No one expects you to win!"
In 2019, she became the second Black person and first Black woman commodore in the history of LAYC, which approved her business plan to create a sailing school. She took their Women on Water program from a one-day indoor luncheon and fashion show to a full-fledged campaign to get women boating in a CAL 25 she purchased on eBay.
At the school where she's also an instructor, she and Bill offer free racing classes to young adults, as well as brush-up classes for anyone needing them. The couple owns a Nelson Marek 55 that Bill named Marie. Once a year, she takes it to Catalina with an all-women crew.
A teacher by profession — studios hire Marie to teach school-aged minors performing in theater, film, and television — she also works to help improve racial and gender diversity in the world of boating and yacht clubs. "Los Angeles is a perfect example," she says. "It's a hub of the entertainment industry, populated by people who are more than financially capable of participating in the sport. They've just never been invited in."
Opening Doors
Seeing people of color represented visually by outdoor brands, on teams, and in companies sends a positive message to the public, showing people of color that boating welcomes them, too. Ayme Sinclair offers a suggestion for those in the boating community trying to diversify: "If you don't have anyone of color on your team or board, seek out organizations such as Outdoor Afro or similar Facebook groups and clubs geared toward people of color. Network and ask for someone to help make those inroads for you." Or reach out to the women in this article through their affiliations.