Many of the companies that make your boats, engines, and gear have stepped up with donations, as well as donating medical masks that long have been essential to the business of building boats.
As Americans began grasping the scope of the COVID-19 pandemic and states began to implement stay-at-home orders, we've watched health-care professionals and essential front-liners — everyone from grocery clerks and delivery drivers, to police, mail carriers, and so many more — become our new national heroes.
We've watched North American companies take it upon themselves, at their own expense, to shift production from whatever they were making, retool, and start pumping out the medical supplies of which our nation was in dire need. Many of the companies that make your boats, engines, and gear voluntarily stepped up with significant financial donations, as well as donating tens of thousands of the medical masks that long have been essential to the business of building boats.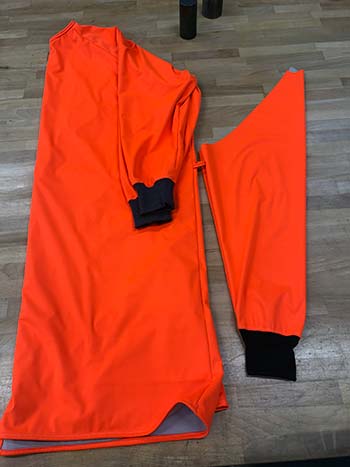 Mustang designs medical gowns.
In Wisconsin, Mercury Racing and its sister company Power Products Integrated Solutions used their 3D printing capabilities to make masks for first responders and healthcare professionals. North Sails in Maine transformed their sail-repair lofts into mask-making production lines. "We're making about 100 masks a day, in between jobs," says sail loft owner Eric Baldwin. "We were just so tired of having no good news. So we thought, this is a way to put out some good karma."
In Georgia, the builder of Chaparral and Robalo boats donated hundreds of N95 masks to nursing homes and hospitals. Mustang Survival in Canada switched from making life jackets to cranking out hospital gowns for health-care workers. Rhode Island-based Kinder Industries, which normally makes boat covers, shifted production to making face shields for hospital staff. Wakeboat builder Tige Boats donated 2,000 protective suits to hospitals and switched its Texas facility to produce and donate 500 face shields per day, along with other high-demand PPE.
Ski boat makers Nautique and Centurian/Supreme quickly turned their machinery and staff around to produce thousands of masks and face shields, which were donated to an array of Florida hospital and government entities. "[Nautique's parent company] Correct Craft has an amazing team that has a strong desire to help others," says Bill Yeargin, president and CEO.
Other marine companies, such as Aspen Yachts in the Pacific Northwest, created videos to show innovative ways they've engineered to make their plants safer for workers until a vaccine is available, then shared what they've learned with their competitors via YouTube. Waterway Guide, Dockwa, America's Great Loop Cruisers' Association, and Snag-A-Slip teamed up during the crisis to offer free status reports to boaters on access to marinas, services, and docks.
Spring boat shows and early summer raft-ups, regattas, festivals, and fishing tournaments were canceled or postponed, as were marine training classes, and countless other get-togethers in this age of social distancing. But many boat clubs and marine companies mobilized, posting ideas on ways to help locally, from donating to food banks to setting up checks on elderly neighbors and dockmates. St. Andrew's Bay Yacht Club on Florida's panhandle cooked and delivered more than 700 meals (and counting, as of mid-April) to first responders and local hospital workers, while other members made financial donations.
Here at BoatUS, every day our editors find inspiring examples of how boaters have pulled together, such as Cade and Lisa Johnson, who in early March used their sail-repair sewing machine to make face masks for everyone in their village, then went door to door convincing them to wear them. You probably know individual boaters or marine companies selflessly rising to this unprecedented moment. Tell us about them at Magazine@BoatUS.com.