Tell Me A Story
If you can't find the time to read a book in the traditional way, consider downloading an audiobook to your smartphone or tablet. It's easy, and you can listen while relaxing onboard, driving a car, or while doing almost anything anywhere. There are several providers, but Audible from Amazon is the behemoth with more than 180,000 titles. Both Audible and competitor Audiobooks.com offer a free 14-day trial, and once you join you can share titles with family members. Here's a preview of some popular titles, read by gifted narrators.
Hemingway's Boat: Everything He Loved In Life, And Lost, 1934 – 1961
By Paul Hendrickson, narrated by Jonathan Davis
Pilar was the beloved 38-foot wooden fishing boat built in 1934 by the Wheeler Yacht Company for legendary novelist Ernest Hemingway, on which he escaped fame's spotlight to go biggame fishing — the topic of some of his most famous works. This biography draws on previously unpublished material and focuses on his life in its twilight, and the seemingly singular constant joy in his life, his boat Pilar.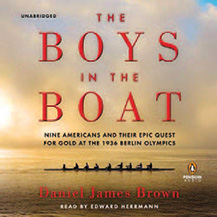 The Boys In The Boat
By Daniel James Brown, narrated by Edward Herrmann
Germany, 1936. Europe on the cusp of war. Hitler trying to showcase his new world order by hosting the Olympics in Berlin. Many of us have read about African- American track star Jesse Owens and how he electrified those Olympics by winning four gold medals. But not as many know about the nine college students who won gold for the USA in rowing that year. Here's the whole story, brilliantly narrated by veteran actor Edward Herrmann, of young Americans emerging from the Great Depression, working together toward victory. The story details the athletes, their skill at reading the water, the hydrodynamics of the boats, and the charged politics displayed on a world stage.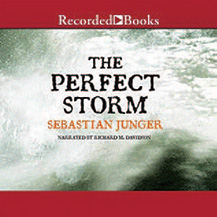 The Perfect Storm
By Sebastian Junger, narrated by Richard Davison
A riveting account of man against the elements, centered around the 72-foot swordfishing boat Andrea Gail, working the Atlantic's George's Bank. We may all know how the story ends, that she and her crew were lost in the mother of all storms, the so-called Halloween storm of 1991, but this does nothing to diminish the rich narrative and excitement that leads the listener to the petrifying crescendo of prolific audio book narrator Richard Davison.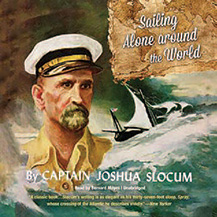 Sailing Alone Around The World
By Joshua Slocum, narrated by Bernard Mayes
Slocum was an expert sailor and gifted writer who set out from New England in early 1895 and returned three years later, proving it was possible sail solo around the world on a small boat — an extraordinary feat at the time. His writing style is witty, fast-paced, and an exhilarating match to his adventures. He was chased by Moorish pirates off Gibraltar; submerged by a great wave off Patagonia; encountered Black Pedro, "the worst murderer in Tierra del Fuego;" and he foiled a nocturnal attack by natives by strewing carpet tacks on the deck of Spray. Continually in print since it was published a century ago, this is the inspirational sailing work by which all others are judged.
Three Men In A Boat
By Jerome K. Jerome, narrated by Hugh Laurie
Ranked as one of the greatest novels of all time by The Guardian newspaper, here's the story of three friends in Victorian England as they travel up the River Thames in a rowing skiff. Originally intended as a serious travelogue for the emerging recreational boating scene, Jerome's dry wit and colorful language destined the 1889 book to be published as humor, and it still feels fresh and timeless today. The narration by actor Hugh Laurie (TV's "House") is stellar, and with a run time under three hours, this an entertaining way to pass some happy time.