Graceful lines and creature comforts distinguish the 'little ship' that is the new Grand Banks 60 Skylounge.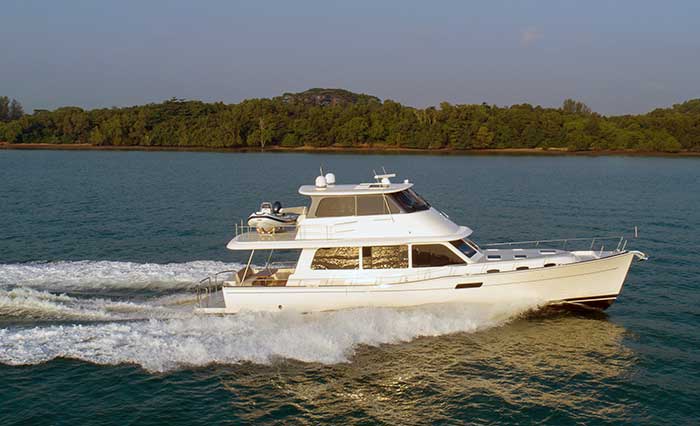 Powercruisers expect a certain standard from their yachts, starting with comfort anywhere on the boat in both cold and warm climates. The latest model from Grand Banks Yachts, dubbed the 60 Skylounge, offers cruisers the ability to operate the boat from an enclosed upper pilothouse.
During a tour of the yacht, introduced at this month's Fort Lauderdale International Boat Show, the view from the bridge deck was impressive, with unobstructed 360-degree panoramic views.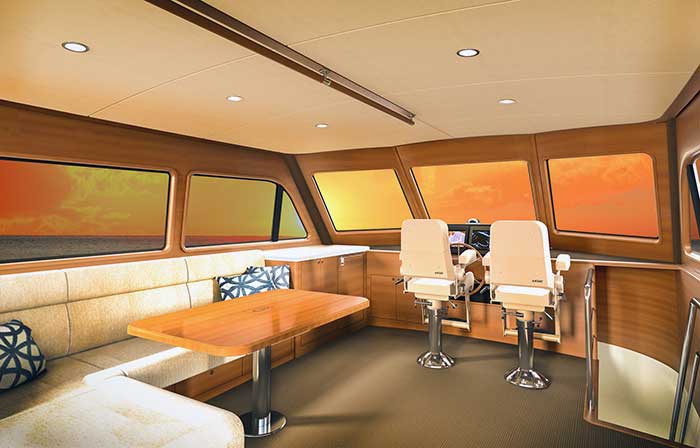 All of the luxuries, from plush upholstery, ample sleeping quarters and every bell or whistle you can think of, came with an engineering challenge of minimizing weight at the top, since that's where guests are naturally drawn. To address that, the entire deck, cabin house and Skylounge are infused with carbon fiber and the structure is built with foam core sandwiched between skins of stitched carbon fiber supported by infused composite panels in a robust grid system.
That weight savings also help with fuel efficiency. The standard twin 900-horsepower Volvo D13 diesels are projected to provide a top speed of 31 knots with a 25-knot cruising speed at 2,020 rpm. Pull the throttles back to 10 knots for a 2,000-mile range. Unlike traditional semi-displacement hulls that require fuel and horsepower to push the after sections on to a plane, the Grand Banks 60 is efficient throughout the entire speed curve and promises significant fuel savings.
Check out this video of the 60 Skylounge: