Every weekend warrior daydreams of hooking foreign species in distant waters. Make it a reality this winter at one of these five angling hot spots.
Before winter sets in across the North American continent, many of us will already be dreaming about warmer climates that offer red-hot fishing during the chillier months of the year. Many of us also have an angling bucket list, filled with exotic species and far-off fishing grounds. This winter, if you want to take a fishing trip that you'll remember for a lifetime, consider these five top destinations.
Andros Island, Bahamas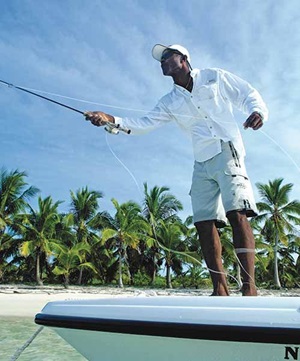 No bucket list would be complete without ticking
Andros Island off the list.
A mere 120 miles from Miami, Florida, to its northernmost tip, Andros Island is the largest island of the Bahamas and is rightfully called the "Bonefish Capital of the World." While flats fishing for bones is certainly the main attraction, the list of rather exotic species you can encounter here is incredibly long: The inshore waters are riddled with fish like tarpon, barracuda, snapper, and grouper, while offshore you'll encounter the likes of dolphinfish (mahi-mahi), tuna, sailfish, and wahoo.
Anglers looking to make their bones will find that fly fishing on the flats from skiffs and/or wading is the most popular method. Bonefish average 3 to 5 pounds, with larger fish caught with some regularity and double-digit bonefish always a possibility. Clousers and crab- or shrimp-pattern flies are the most common offering. Those more interested in big game can get on a boat and troll outside the reefs, with the main target being wahoo.
Many of the resorts in and around Andros are all-inclusive, which is a good feature to look for as getting around on the island can be difficult. Roads aren't always in the best shape, taxis are expensive, and rental cars are uncommon. Many of the resorts offer both guided and self-guided fishing as well as other activities. Be sure to come prepared, however, as some provide fishing gear while others expect you to bring your own. Most offer internet access to one degree or another, but in some cases it may be limited to common areas.
Best Months: November through March offer prime bonefish fishing.
Contacts: Islands of the Bahamas or 800-224-2627 does an excellent job of detailing the different resorts, fishing guides, and options on Andros. That said, the Andros Island Bonefish Club, which has its own fleet of flats boats and a guide service, is rather iconic in the sportfishing community.
Top Species: Bonefish inshore and wahoo offshore.
Other Activities: Diving is very popular all around Andros. There are countless white sandy beaches, and ecotourism and bird watching are also quite popular.
Insider Tip: Culture buffs will want to make their way to Red Bays village on the northern tip of the island, where a mix of Seminoles (fleeing Florida during the Seminole Wars) and escaped slaves established a settlement in the early 1800s. Be sure to buy one of their unique handmade baskets woven from palm fronds.
Ascension Bay, Mexico
Inside the Sian Ka'an Biosphere Reserve, protected from industry and development, Ascension Bay is one of the most uniquely unspoiled places in the Americas. Situated about 100 miles south of Cancun (where the nearest major airport is located), it's not incredibly easy to drive there, because the roads are less-than-ideal and may take up to six hours to travel. Fortunately, many of the lodges can arrange for private air or helicopter charters.
This is another flats-fishing destination, and many anglers like it for the wider-than-usual diversity. Bonefish, tarpon, snook, jacks, barracuda, sharks, and snappers are all potential catches. The main draw, however, is permit. Legendary fly angler Lefty Kreh once said, "If you want to catch permit on the fly, there is no question that you stand a better chance here than anyplace I know of."
There are a number of resorts in and around Ascension Bay. Most are all-inclusive out of necessity because they're thoroughly isolated. As a result, nonfishers may find the setting idyllic but without many of the tourist activities to keep them occupied.
Best Months: Permit peak from December through February.
Contacts: The Palometa Club resort and Pesca Maya are solid bets for strong fishing. Many anglers choose to book an Ascension Bay trip through fly-fishing services, such as Red's Fly Shop, that have extensive experience in the area and can help smooth out the planning bumps.
Other Activities: Snorkeling, diving, and nature-watching are common; (guided) trips to the Muyil Mayan ruins can be preplanned from some resorts.
Insider Tip: Modern conveniences like Wi-Fi, cell service, air conditioning, and even electricity are not a sure thing in this region. Do your homework before booking a trip, and make sure the resort or fish camp where you choose to lodge meets your needs.
Coastal North Carolina
Things may wind down in coastal North Carolina during the winter months, and this destination certainly doesn't feature the warm tropical temperatures of most of the fishing destinations on this list. But out on the ocean, the fishing can be red-hot. Giant bluefin tuna are the target, and fishing off coastal Carolina gives you the shot at a true once-in-a-lifetime fish — 300-pounders are considered average, 500-pounders are "nice," and tying into an 800-pound fish is not out of the question.
The toughest part of planning a trip here is knowing when and where to arrive. The run can begin as early as December or as late as the end of February. It may take place up north near Oregon Inlet, or 50 miles farther south near Hatteras could be the better bet. Or it may happen even farther down the coast for anglers departing from Morehead City. No one knows for sure until the fish arrive — and a week later they may change their minds and head for different waters.
Despite the unpredictability, potentially cold and rough weather, and the long drives associated with going to coastal North Carolina (Raleigh-Durham International is a four-and-a-half-hour drive from Cape Hatteras, or you can hop on a puddle-jumper and cut the wheel-time by a little more than half), the sheer size of the oceanic beasts caught here earns coastal Carolina a place on the bucket lists of countless anglers worldwide. And don't be surprised if you meet fishermen walking the docks speaking other languages because people travel here from all corners of the world to try going mano a mano with a giant bluefin tuna.
Best Months: January and February into early March.
Contact: Oregon Inlet Fishing Center, 800-272-5199; Hatteras Harbor Marina, 800-676-4939.
Other Activities: Most summerlike activities are unavailable due to the relatively cool winter climate. However, beach towns and resorts are located all along the coast, so there's plenty of shopping, restaurants, and activities like mini-golf and movie theatres. Note that many businesses operate on an abbreviated schedule during the winter months.
Insider Tip: Wherever in coastal North Carolina you end up, be sure to ask the locals for their favorite barbecue spots. Carolina barbecue with slaw on top is something everyone should try at least once. You'll come back for more.
Florida
The state of Florida is so chock-full of wintertime fishing opportunities that we can't bring ourselves to limit the travel to just one specific destination. Freshwater anglers will want to head to the Miami area to hunt for exotic peacock bass. Fly fishermen may set out for the Keys where bonefish and tarpon dwell. And offshore anglers can depart from any number of ports along the east coast of Florida to target sailfish, amberjack, blackfin tuna, kingfish, and cobia.
TIP: BoatUS partners offer exclusive member discounts on fishing guides, marinas, tackle shops, and more. Visit BoatUS.com/Map to search for companies.
The good news is that Florida is, as one would expect, a wintertime travel mecca with top-notch infrastructure and accommodations. You'll find everything from five-star resorts to bed-and-breakfasts in virtually every corner of the state. Multiple airports, readily available rental cars, and highways make it relatively easy to get around no matter which species of fish strikes your fancy. One warning, in that vein: There's one road in and one road out on the Keys, and traffic can get congested. Try to time your drives on the Overseas Highway outside of peak travel, or you may be faced with delays and traffic jams.
Best Months: All of them.
Contacts:Visit Florida, has oodles of travel information good for planning. On the fishing front, check out the Florida Guides Association, which has a comprehensive listing of fishing guides organized by area, type of fishing, and species of interest.
Other Activities:You name it: Diving, golf, shopping, special events and festivals, nightlife, top-rated restaurants, and more are all present and accounted for.
Insider Tip: Be sure to eat local in the restaurants. Order things like grouper, shrimp, and conch. And in many areas the Cuban food is both magnificent and authentic.
Los Suenos, Costa Rica
Costa Rica is a well-known winter fisherman's paradise, and Los Suenos Resort is one major reason why. This is a 1,100-acre facility with multiple forms of accommodations (a 201-room Marriott with all the amenities, condominiums, and private villas), a 316-slip marina, a golf course, five different restaurants, and of course a charter fleet. The other reason why Los Suenos is so well known? Shockingly good offshore fishing — 20-plus shots at sailfish in a single day of fishing is not at all uncommon. On top of that, blue, black, and striped marlin plus yellowfin tuna are all present in good numbers throughout the winter months. An added attraction for many anglers is the roosterfish, an exotic species that's found in near-shore waters and known for crushing topwater plugs with heart-stopping explosions.
Los Suenos is located about an hour's drive from the international airport in San Jose (about a three-hour flight from Miami), and ground transportation is easily arranged. Once at the resort, golf carts are a common mode of transportation. Los Suenos has just about everything you can imagine needing for an extended winter fishing vacation, including a 24/7 on-site medical facility, widespread Wi-Fi service, and even a store with vacuum-bag fish-packing service.
Best Months: December through March.
Contacts: Find out everything you need to know and start booking at lossuenos.com.
Other Activities:Golf is a favorite. There's also a full-service spa and fitness center, and a private beach club. Scuba, snorkeling, and ecotourism are available, too.
Insider Tip: Visit during one of the legs of the Signature Triple Crown fishing tournament and you'll be rubbing elbows with captains and members of the top billfishing tournament teams in the world.